Microsoft plays creativity card in Windows pitch to consumers
Unveils new premium hardware, but goal is to boost the whole Windows enchilada, says analyst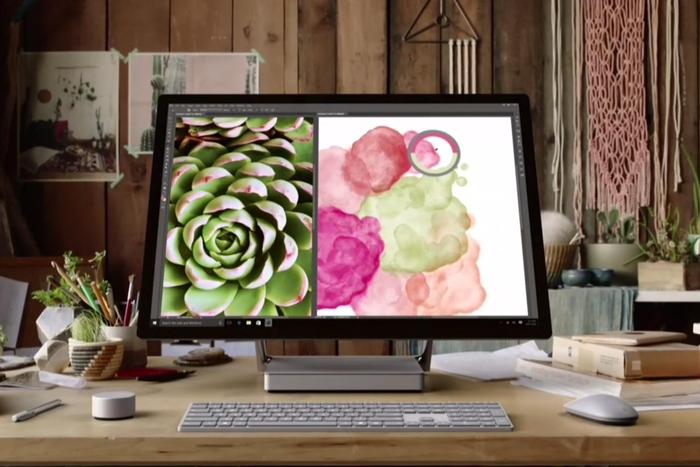 Microsoft today announced new hardware and named its first 2017 Windows 10 update, all part of a new promotional pitch that aims to establish itself, its partners and the Windows ecosystem as centers for creativity, analysts said.
"I love the concept [of Microsoft] trying to equate productivity and creativity," said Stephen Baker, an analyst with the NPD Group who was at Microsoft's New York City event Wednesday. "Content consumption and productivity really don't go together, but consumption and creativity do."
Throughout the two-hour presentation, Microsoft stuck to a theme of creativity: It slapped a name on the next Windows 10 upgrade -- now called "Creators Update" -- and unveiled a $2,999 all-in-one desktop PC, the Surface Studio, that it pointed at creative professionals and consumers with big wallets.
Included with the Windows 10 Creators Update -- which will likely launch in March 2017 -- will be tools for 3D object creation, features for self-broadcasting PC games and ties to virtual reality, augmented reality and what Microsoft, among others, has begun to call a "mixed reality" viewed with its HoloLens hardware.
The goal with the next version of Windows 10, said Terry Myerson, the company's top operating system and devices executive, was nothing less than "To have the effect of the Gutenberg press on this generation."
Most of the applause at the event, however, was reserved for the new Surface Studio, the latest addition to Microsoft's premium Surface brand of devices. The 28-in. desktop flexes to lie flat for easier use with touch or pen, or the also-new Dial, a puck-shaped device that when placed on a Surface screen, serves as an alternate input device for tasks such as scrolling and zooming.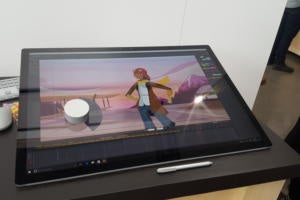 Credit: Mark Hachman
The creative-creativity-creators pounding was purposeful. "This wasn't just about OEMs, but about the whole Windows ecosystem," said Baker when asked if, like the original 2012 strategy for the Surface line, Microsoft meant to nudge its original equipment manufacturer partners toward slicker designs. "The personal computer has been pigeon-holed into a keyboard-mouse productivity world. But the next generation of users, who see the value of productivity, have other values, too.
"Microsoft is trying to show the rest of the ecosystem what that value proposition is," Baker added.
To Baker, Microsoft's desktop was a play for consumers who blend personal and professional, and have plenty of money -- in other words, the same group that's buying Surface tablets and notebooks. "The relative success of the Surface has shown that there are customers who see the value of cross-over [devices] and are willing to pay for them," Baker said.