Microsoft's Surface Book i7 doubles the GPU performance of its predecessor
Updated Surface Book i7 gets fatter GPU, slightly fatter body, and keeps the Fulcrum hinge.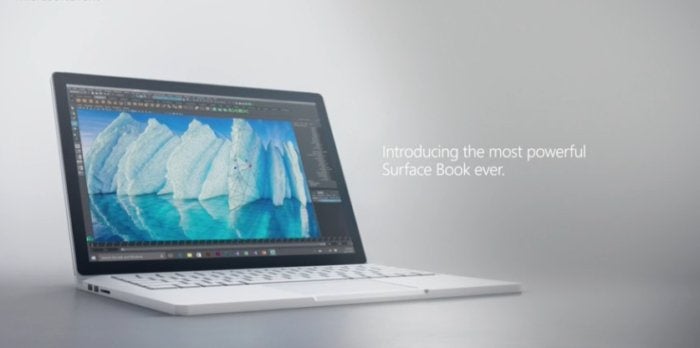 Microsoft's new Surface Book i7 will have longer battery life and more than twice the graphics performance of the previous model.
Describing it as the "ultimate laptop," Microsoft exec Panos Panay said the design goal of the updated Surface Book i7 was simple: "We took the Core i7, and then we gave it more."
The "more" here equals roughly 1.9 teraflops of GPU performance inside the new Surface Book i7, adding value to a product that Panay says already has the highest customer satisfaction ratings among any current Windows 10 machine or any MacBook. (Read our original review of the Surface Book.)
The overall design cues don't change. The screen is fully detachable and reversible and can function as a tablet, while the base contains the graphics chip and extra batteries. Pen and touch are supported, of course. And that unique Fulcrum hinge, which was rumored to be on the chopping block, remains.
What's inside?
The biggest upgrade is, of course, the GPU. The original Surface Book used a "GeForce" GPU with no actual model number attached to it. Most chip experts believed it to basically be a GeForce GT 940. This time at the rodeo, Microsoft updates the GPU to a GeForce GTX 965M with 2GB of GDDR5. That's quite a step up in performance—a level I haven't seen in anything smaller than a 15-inch laptop—but it's still likely to disappoint some.
That's because while the GTX 965M isn't a bad GPU, it's a little elderly and built on the old 28nm process. Nvidia just announced its desktop GeForce GTX 1050 and 1050 Ti, which will likely be far more powerful and power efficient. The problem here is that Nvidia hasn't released the laptop versions yet.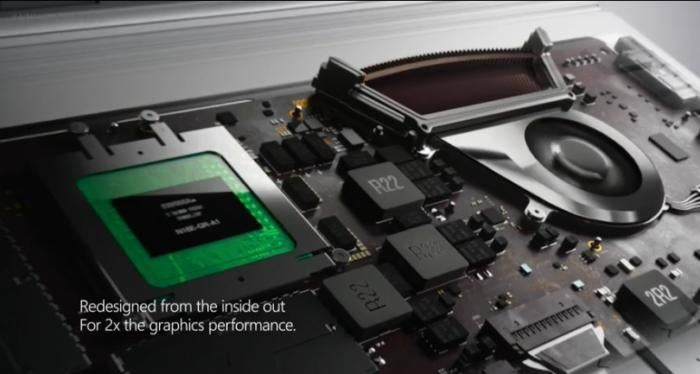 There's a GeForce GTX 965M mobile chip inside the new Surface Book i7.
No matter the part though, doubling the graphics performance of the old Surface Book is an admirable feat. In fact, Panay said the company had to add an additional fan to the Surface Book base to keep it cool. The fan uses a hyperbolic fin design, which blows hot air out the back of the laptop.
Although Panay said it was the same design, images of the new Surface Book seem to indicate it's gotten a little bigger.
Here's a view of the old Surface Book next to the Surface Book i7, where you can see the hump on the keyboard to be, well, humpier.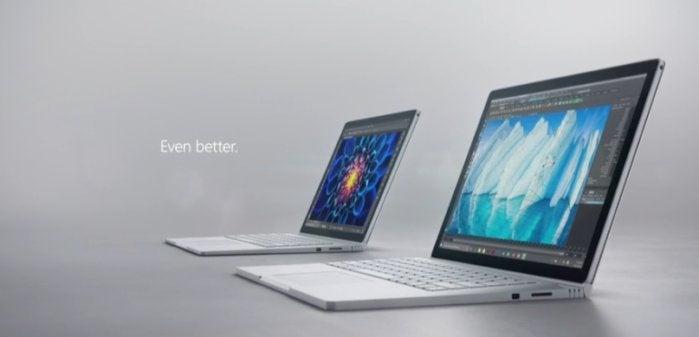 The newer Surface Book i7 seems to have a larger hump to accommodate the additional cooling for the more powerful GPU.