Microsoft's Surface Book i7 doubles the GPU performance of its predecessor
Updated Surface Book i7 gets fatter GPU, slightly fatter body, and keeps the Fulcrum hinge.
Can't see it? Here's a better angle where you see part of the fan vent and larger hump on the more powerful Surface Book i7.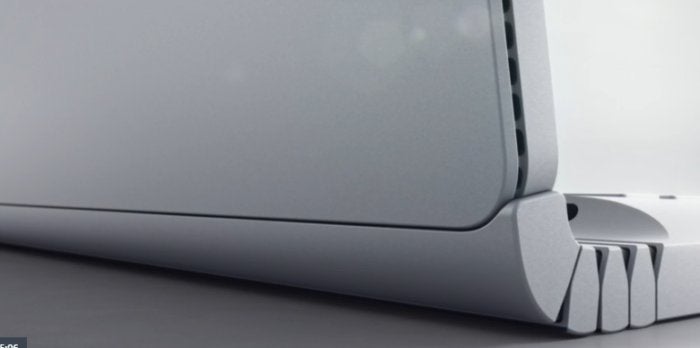 You can see the hump better here on the right side just behind the hinge. The original Surface Book doesn't rise up that much.
Ports
What will surely disappoint some fans is the port selection. From what I can tell, the Surface Book i7 sports the same ports as the original, with a Mini DisplayPort, Surface magnetic charging connector, and analog audio on the right side. The left side sports two USB Type A ports and an SD card reader. In other words: no Thunderbolt 3 and no USB Type C support.
Microsoft pulled an Apple
You know all the smack-talking PC fans have done toward Apple because the company never, ever, upgrades its CPUs in a timely matter? Like how the MacBook Pro 15 you buy today is still using a 4th-gen Haswell-based CPU?
Well, prepare for some payback because Microsoft just pulled an Apple with the Surface Book. While it has heavily updated the Surface base with a fat new GPU, it appears to have left the tablet portion of the Surface Book untouched—on the outside and inside.
Rather than featuring the newest 7th-gen Intel Kaby Lake CPU, the Surface Book i7 offers the 6th-gen Skylake CPU.
Sure, you say, Skylake to Kaby Lake is just a 10 percent performance bump (see my review of Kaby Lake for details), but who wants to buy a new laptop with last year's technology?

Ports are unchanged from the last Surface Book
Better battery life too
The other update Microsoft made with the Surface Book i7 was to increase battery life to "15 hours" of use using the old trick of just shoving in more batteries. Microsoft said it was able to get up to 30 percent more battery capacity into the Surface Book i7. As the original had an 18 watt-hour gas tank in the tablet portion and 51 watt-hour in the base, the newer Surface Book i7 will likely feature an immense 90 watt-hour battery inside.
That's close to hitting the maximum battery allowed in a laptop on a plane: 99 watt hours. Battery life should be stellar with a tank that size.
Of course, between the added cooling for the faster GPU and the added batteries, you can expect more weight. A Surface Book i7 with the new "Performance Base" will come in at 3.68 pounds. The previous Surface Book with a discrete GPU weighs 3.48 pounds.