MyFox Security Camera review: This stylish camera is slim on customization options
The French home-security manufacturer's standalone camera is more attractive than most, but it handcuffs users with limited management options.
Setup and usage
Setting up the MyFox is fairly simple: once you downloaded the app, it walks you through the process for creating an account, entering your Wi-Fi information and and adding the camera to your network. The whole thing took about three to four minutes.
MyFox's 720p video is pretty standard in this price range, and it's crisp and clear with moderate fish-eyeing in smaller rooms. It remained that way when switched to night mode, and there was minimal distortion when using the 4x "magic zoom" on the image in either mode.
In addition to the power and Internet outage alerts, MyFox sends you a notification if the camera detects motion. Unlike with some other cameras, MyFox doesn't offer a way to adjust the sensitivity of the motion detection, so I was getting alerts every few minutes because one of my cats moved in proximity of the camera. It was annoying enough that I eventually turned the motion detection off.
I tested the mic while I was in the house and the audio was plenty loud but buzzy, with no improvement even when I held the phone farther away from my mouth. The sound from the live feed was actually much clearer, and I could easily make out conversations the camera picked up when I was in another room.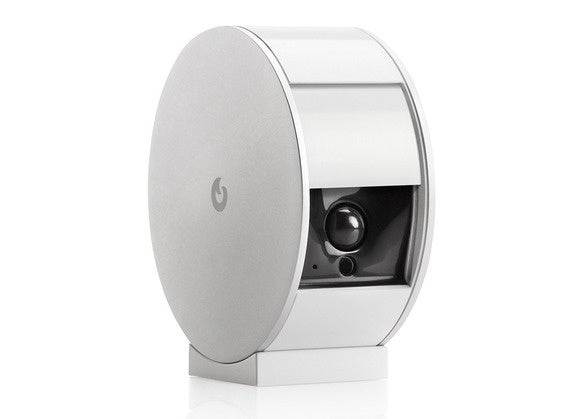 The MyFox Security Camera's privacy shutter is an effective feature for thwarting snoops. Credit: Myfox
You access your live feed by selecting your camera from from the MyFox app's home screen. The feed screen looks much like the one for Simplicam's app—the feed appears at the top. Beneath that, you'll find controls for the privacy shutter, microphone, and speaker, and a button to take screenshots of your video feed that are saved to your phone's camera roll. Under these is a scrolling timeline where security events are recorded as purple bars; you just scroll the timeline back to one of them to view that event's video footage.
Despite this labyrinthine menu, the app doesn't offer much in the way of camera customization options. Every function—motion detection, night vision, HD video—comes with basically two options: on or off. Several comparably priced cameras allow you to set motion detection areas or to change the intervals at which you receive alerts to reduce false alarms and nagging notifications. None of those were available with this camera.
I asked a MyFox representative about this and was told that scheduling options and the ability to manage notifications are currently available only to customers who use the camera as part of its full MyFox security system. The spokesperson said the company is working on making notification management available to customers who purchase the camera on its own.