Netatmo Welcome review: This camera promises personalized security, but its facial-recognition feature falls short
While this security camera successfully takes the creep factor out of home monitoring, its marquee feature feels like a work in progress.
Setup and usage
The Netatmo Welcome had one of the easiest setups of any camera I tested. Other than the peculiar requirement to turn the camera upside down for the duration of the setup process, there was nothing remarkable about adding the camera to my Netatmo account and home Wi-Fi network. The Netatmo Welcome mobile app (there's no web option) walked me through the steps and the whole operation was completed in less than two minutes.
Netatmo doesn't include any wall-mounting or magnetic accessories, so you're limited to placing it on flat surfaces. I positioned it on our living room entertainment center one bustling school morning, and within minutes it was sending regular motion alerts.
It also immediately started trying to recognize faces. When I first opened the app, the home screen presented me with a series of snapshots of myself and each of my family members, each with a question mark next to it identifying them as unknown faces. Each of these snapshots represented an event where the camera picked up human features. Tapping on a face takes you to the video clip of the triggering event. Long-pressing a face, allows you to identify that person.
When you start the face-identification process, you're presented with three options: "identify," "forget this person," or "not a face." As the camera never recognized my dog or a lamp as a face, I never had to use the last one. Selecting "identify" gives you two choices: Build a new profile, or correct the camera if it didn't recognize someone it should have.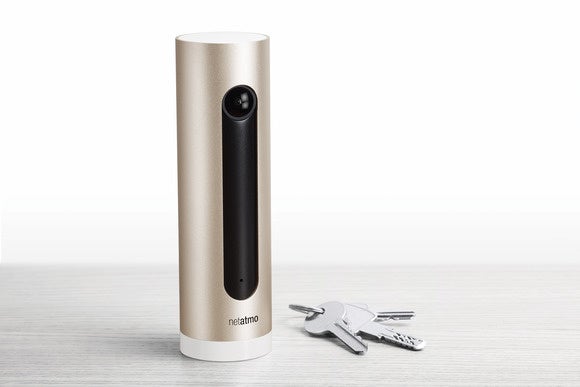 The Netatmo Welcome's unique design makes it less conspicuous on your shelf or mantel. Credit: Netatmo
Building a profile allows you to name the person and add a photo, either the snapshot taken by the camera or a different picture. If there are multiple shots of the same person marked as identified, you can add each one to that person's profile. This will help increase their "profile strength," represented by a meter of one to five bars that indicates how well the Netatmo system knows them.
Based on my usage, building that strength takes time. The system learns to better recognize a face as it's increasingly exposed to it at different angles and in different lightings. I also had to do a fair amount of correcting the system when it marked an previously identified face as unknown. According to Netatmo, it can take a couple of weeks to build a full-strength profile. But considering it "learns" primarily by capturing fuzzy images of people in motion, it's tough to imagine its recognition will ever be as foolproof as we'd like.
Previous Page 1 2 3 4 Next Page