Penclic Mini Keyboard K2 and NiceTouch T2 review: Input devices not worth your consideration
At least the keyboard has an Escape key.
There's no LED light when the Caps Lock key is depressed, which drove me absolutely bonkers. The keyboard also offers the oddly labelled "Alt Grr" key to the right of the Space bar, which is actually the Euro-centric Alt Gr with a typo. (This, along with the F2 modifier key being labeled "Silence!" instead of Mute, proves Swedish designers at least have a sense of humor.)
Although the Mini Keyboard K2 is wireless, it uses a USB receiver dongle rather than more common Bluetooth connectivity. The Mini Keyboard K2 has a USB port, but it's for charging the batteries only. Penclic offers a cheaper corded model, which does offer a spare, usable USB port.)
NiceTouch T2
The NiceTouch T2 (€70) is a companion four-button touchpad with scroll wheel. If you use it with the Mini Keyboard K2, connecting the NiceTouch T2 to your Mac could be problematic. Since the USB connection on the keyboard is for charging only, the touchpad takes up yet another port on your Mac, and requires the use of an included extension cable on top of that.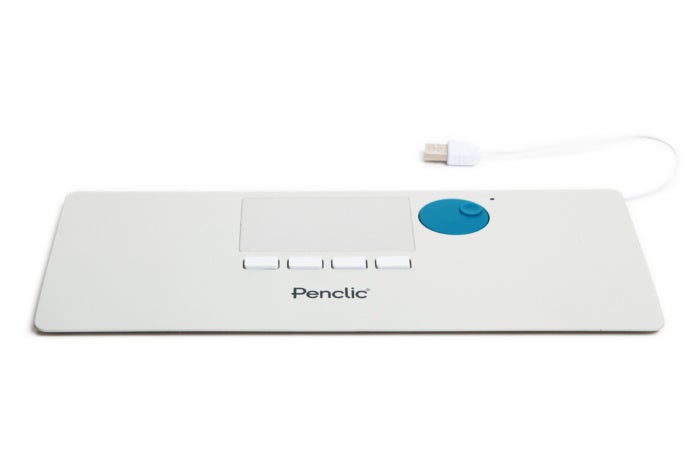 What do the four buttons on the NiceTouch T2 do? You'll have to consult the manual to find out, and hope you can remember.
NiceTouch T2 simply isn't worth the effort. It's meant to be placed at the bottom of the keyboard as an ergonomic hand rest, but winds up moving the keys another five inches further away on your desk. The scroll wheel isn't a particularly intuitive way to navigate, and the buttons aren't labeled, so I never was able to remember which was which. Adding insult to injury, both accessories are priced considerably higher than rival products.
Bottom line
With a cheap build quality and frustrating layout, I can't recommend either the Penclic Mini Keyboard K2 or the NiceTouch T2, especially for American users.