Raspberry Pi 3 review: The revolutionary US$35 mini-PC cures its biggest headaches
The Raspberry Pi 3's subtle improvements add up to a major usability and performance upgrade.
My, how deceiving looks can be.
At first blush, the Raspberry Pi 3 Model B appears physically identical to the year-old Raspberry Pi 2 Model B: the same port selection, the same GPIO pin layout, the same basic board layout, et cetera. But don't let that fool you! The leap to the Raspberry Pi 3 is just as significant as the prior upgrade, supercharging performance even further and eliminating what few lingering setup hassles remained in the Raspberry Pi formula, all while maintaining the same dirt-cheap $35 price point.
But while the Raspberry Pi 3 is easily the most convenient and powerful Raspberry Pi ever, and the first that can potentially be used as a proper PC, it's still more of an evolutionary upgrade than a revolutionary one—which is actually a good thing, as it helps the RP3 maintain backward compatibility with previous generations of the beloved mini-PC and maker board.
Official distributor Element 14 sent us a Raspberry Pi 3 Model B to test, so without further ado, let's dig in!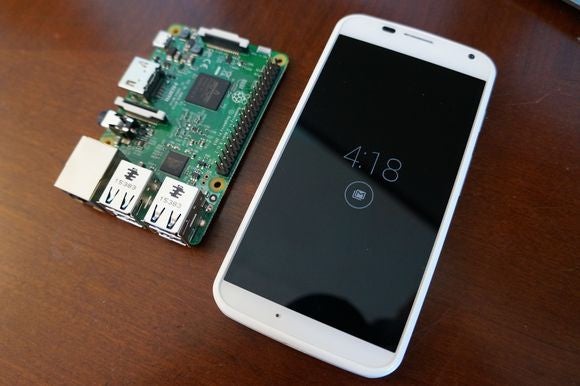 The Raspberry Pi 3 next to a first-gen Moto X with a 4.7-inch display, for size comparison. Credit: Brad Chacos
Faster, better, harder, stronger
The appeal of the Raspberry Pi has always laid in what you do with it rather than raw tech specs, but it's the hardware that lets you create surprisingly practical Raspberry Pi projects and insanely creative inventions alike. Before we dive into the changes and performance, here's a quick spec breakdown:
SoC: Broadcom BCM2837 64-bit system-on-chip with four ARM Cortex-A53 CPU cores clocked 1.2GHz
CPU: 4X ARM Cortex-A53, 1.2GHz
GPU: Broadcom VideoCore IV
RAM: 1GB LPDDR2 (900MHz)
Networking: 10/100 ethernet, 2.4GHz 802.11n wireless
Bluetooth: Bluetooth 4.1 Classic, Bluetooth Low Energy
Storage: microSD
GPIO: 40-pin header, populated
Ports: HDMI, 3.5mm analogue audio-video jack, 4X USB 2.0, ethernet, Camera Serial Interface (CSI), Display Serial Interface (DSI)
The card-sized Raspberry Pi 3's newfound power lies in a trio of upgrades: A new system-on-chip (SoC) with more potent graphics and computing capabilities, onboard 2.4GHz 802.11n Wi-Fi, and onboard Bluetooth 4.1/Low Energy support.
The new features seem insignificant on paper, but they add up to a serious usability boost in the real world—especially the onboard wireless capabilities, which just plain work out of the box with the default/recommended Raspbian operating system. Developing a Raspberry Pi-specific OS to work solely with Raspberry Pi hardware pays dividends in ease of use, it seems, especially since standard Linux installations are notorious for finicky wireless connectivity. The mere fact that integrated Wi-Fi exists is a huge step up from previous Raspberry Pi models, which required you either to pony up cash for a Wi-Fi adapter or hardwire your board via an ethernet connection.