Raspberry Pi 3 review: The revolutionary US$35 mini-PC cures its biggest headaches
The Raspberry Pi 3's subtle improvements add up to a major usability and performance upgrade.

The Raspberry Pi 3 needs a lot of extras to work. On the plus side, using Bluetooth peripherals can free up USB ports if you need them. Credit: Brad Chacos
You'll also need to bring your own operating system and storage on a microSD card. (There's a good chance you'll need to microSD card adapter to slot the card into a traditional PC and grab that operating system, too.) There is a wide world of Raspberry Pi operating systems available, from more general Linux distros to laser-focused OSes built for a specific purpose, like Windows 10 IoT, OpenElec for media streaming, or a Raspbian build for Pi-powered weather stations.
We tested the Raspberry Pi 3 with Raspbian, the Raspberry Pi Foundation's officially supported operating system. The Foundation's Noobs installer tool and setup guide makes getting your Raspberry Pi up and running relatively easy-peasy, even if OS installations aren't your normal cup of tea.
Raspbian's a fairly stripped-down operating system that drives home the Foundation's original goal for the Raspberry Pi—to create an affordable computer that children can use to learn computer science.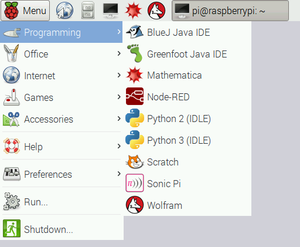 Some of the programming software baked into Raspbian.
Beyond basic OS tools like image viewers, the Epiphany browser, and the LibreOffice productivity suite, Rapbian's packed with development software. You'll find versions of Wolfram Mathematica, Python program creation tools, and Java integrated development environments, along with more directly entertaining educational software like Scratch, an animation coding IDE for kids, and Sonic Pi, "an open-source programming environment, designed for creating new sounds with code in a live coding environment." There's also Minecraft Pi, a version of that blockbuster game that requires you to use Python programming environments and ping the Minecraft Python API (among other things) to play it.
Raspbian also houses a central "Pi Store" with hundreds and hundreds of additional tools, or you can always take the code-centric focus to heart and grab new software via a Terminal window. (Read: the command line.) Raspbian offers everything you need in a basic operating system.
Bottom line
And that's crucial, because the Raspberry Pi 3's performance is finally good enough to allow it to function as a basic PC, rather than being restricted to wild maker projects or more practical purpose-driven singular uses. The Raspberry Pi 3 can still perform those specialized tasks, of course—and better than ever!—but now it can do more. I'm probably going to set up my daughter with one for her schoolwork, which is something I'd never have considered with the previous Raspberry Pi models.
Previous Page 1 2 3 4 5 Next Page