Researchers can use MRIs to print a model heart in 3 hours
The new system replaces arduous work by a human with a computer algorithm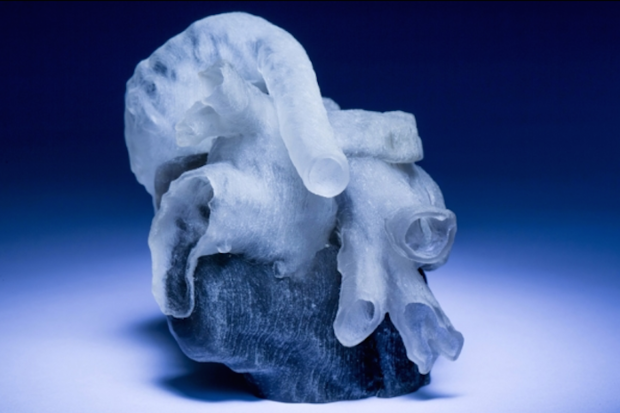 New system from MIT and Boston Children's Hospital researchers converts MRI scans into 3D-printed heart models in far less time than previous modeling required. Credit: Bryce Vickmark
Researchers at MIT and Boston Children's Hospital have developed a system that can take MRI scans of a patient's heart and, in just a few hours, convert them into a tangible, physical model that surgeons can use to plan surgery.
While creating 3D printed models of human organs and vasculature is not new, the speed with which the heart models can be produced using a new computer algorithm is unprecedented, according to the researchers.
The new procedure also increases the precision of MRI scans 10-fold, the researchers said. The modeling system was created by Medhi Moghari, a physicist at Boston Children's Hospital. Andrew Powell, a cardiologist at the hospital, led the project's clinical work.
In the past, researchers have made printable heart models by manually pinpointing boundaries in MRI scans. But the task was arduous, required about 200 cross sections for precision and typically took eight to 10 hours.
An MRI image consists of a series of cross sections of an organ. Each cross section has regions of dark and light; it's the boundaries between the light and dark regions that may indicate the edges of anatomical structures. Or, they may not.
That has been the one of the main problems in using MRI scans for producing 3D printed models -- having a computer determine the boundaries between distinct objects. Referred to as "image segmentation," the general-purpose algorithms used to create them tend to not be reliable enough to produce the precise models that surgical planning requires.
There are also other methods for creating 3D printed models, but they also take many more hours.
For example, Solidscape Max2 3D printer, which combines a fused filament fabrication printer with a CNC milling machine, is used by the healthcare industry to turn CAT scans into 3D models for surgeons to study cerebral aneurysms prior to surgery. That system can take 10 or more hours.
As with previous physiologically accurate models, the new method provides a more intuitive way for surgeons to assess a patient's heart and prepare for the anatomical idiosyncrasies.
"Our collaborators are convinced that this will make a difference," Polina Golland, a professor of electrical engineering and computer science at MIT, said in a statement.
Danielle Pace, an MIT graduate student in electrical engineering and computer science, was the first author of the research paper on the 3D modeling system and spearheaded the development of the software that analyzes the scans.