Samsung 960 Pro NVMe SSD review: Ludicrously fast PC storage
This 2TB rocket of an M.2 NVMe drive is the fastest storage available for your PC.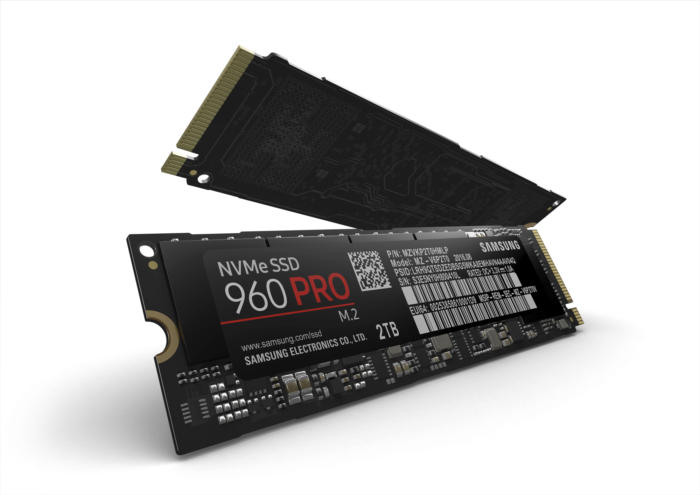 When I was testing Samsung's new 960 Pro M.2/NVMe SSD, a coworker looking over my shoulder at the results declared, "That's sick!" High praise in today's parlance, and a direct response to this drive's incredible speed. It's a phrase I continued to voice silently as I saw read and write numbers of 2.7GBps and 1.7GBps, respectively, pop up. And that was from the super-conservative AS SSD benchmark with non-compressible data; CrystalDiskMark 5 boasted reads and writes of 3.5GBps and 2.17GBps, respectively, with a 2GB data set. Whoa.
Price and capacity
At the time of this writing, the 960 Pro is priced around 63 to 72 cents per gigabyte on Amazon: $372 for the 512GB version, $630 for the 1TB model, and $1,299 for the 2TB version. That's right, there's a 2TB model thanks to the Samsung 3D/stacked-layer NAND employed on the drives. If you've been holding off on M.2/NVMe because of the relatively low capacity (1TB isn't enough?) then the 960 Pro should eliminate that argument, if not the cost issue.
The warranty for the 960 Pro is basically five years, or 400TBW (terabytes written) for the 512GB drive, 800TBW for the 1TB model, and 1,200TBW for the 2TB version. Yes, less of a warranty for your $1,300. Go figure. Our best guess is that getting to 2TB required using less over-provisioning, i.e. NAND set aside to replace failed cells. Regardless, all three ratings are far more than most users will hit over the warranty period, and probably a lot longer.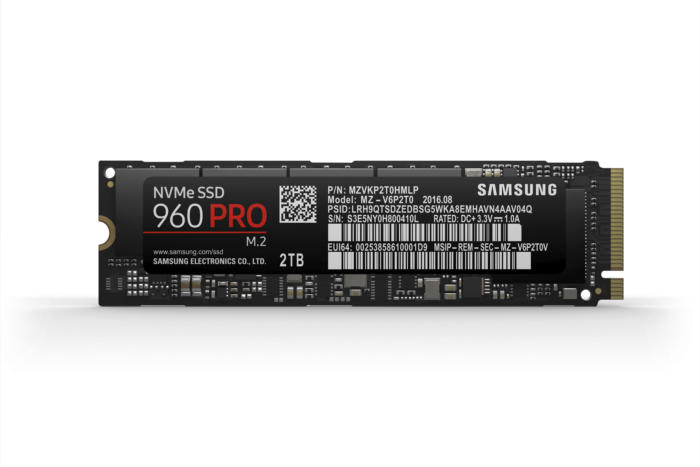 Samsung
Samsung's scintillatingly fast 960 Pro M.2, PCIe/NVMe SSD.
Testing, retesting...
The write numbers I quoted above are absolutely real, but it took a bit of effort plus a retest to get them. My first test with AS SSD, which uses the FUA (Force Unit Access) command to bypass all caching (for Windows and the drive), saw only 170MBps writing. Not unexpected. What was unexpected was 170MBps in our real-world write tests, which don't force access. It was puzzling, but I'm guessing that by running these tests immediately following AS SSD, the early 960 firmware was still obeying the FUA command.
Other oddities ensued, and then the drive itself died (this happens from time to time with review hardware). The replacement drive I received performed more as advertised. Even in AS SSD, where it really shouldn't have, given bypassed caching. I'm still investigating, but Samsung hasn't chimed in at the time of this writing. The upshot is, you should get the numbers I quote as long as you don't turn off write caching for the drive (Device Manager>Disk Drives>Drive Properties>Policies).