Samsung 960 Pro NVMe SSD review: Ludicrously fast PC storage
This 2TB rocket of an M.2 NVMe drive is the fastest storage available for your PC.
The 960 Pro ships with 1MB of DRAM cache for every 1GB of NAND. If the 960 Pro is like other SSDs, a relatively small percentage of that is used for write or read caching, with the majority used for data allocation tables (copied from the NAND). But with the speeds I saw, I'm guessing DRAM caching might play a bigger part than with, say, a SATA SSD.
Whatever Samsung is doing, it works. The 1TB 960 Pro we tested is a beast in the very best sense of the word. Peep the purple bars below. Impressive.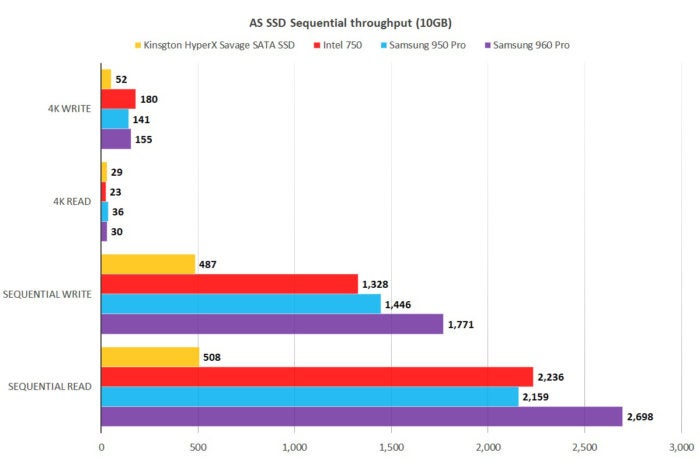 When it comes to benchmarks, the 960 Pro blows away the competition. And the benchmarks generally are indicative of the impact on everyday Windows performance.
On the other hand, the real-world copy tests shown below displayed some mild improvement in sustained throughput, but also revealed the practical limits of what a "faster" NVMe SSD can do for you. While the benchmarks above show drastic improvement, real-world copy performance and hands-on, subjective Windows performance don't mirror them. That's of course comparing the 960 Pro to other NVMe SSDs, the slowest of which eliminates most storage lag. Compared to SATA hard drives or SSDs? We're talking light years better.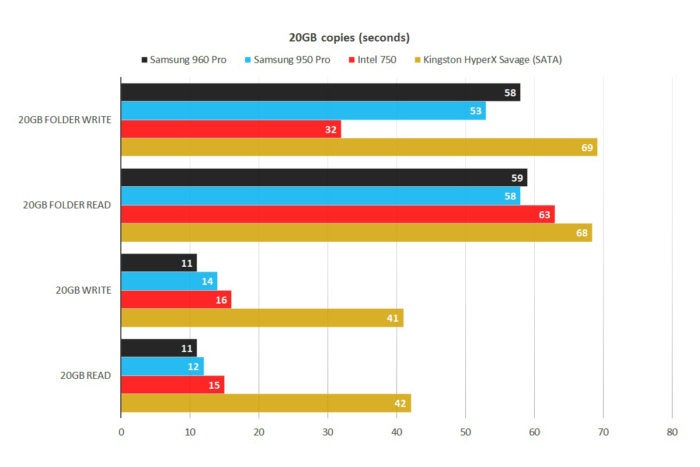 For sustained throughput, the 960 Pro shows significant improvement over the 950 Pro and is quite a bit better than Intel's 750. But the smaller file and folder write numbers (at the top) are actually a bit worse than the previous generation.
As you can also see, the Intel 750, which is a PCIe card SSD and not suitable for laptops, is very fast with the 20GB folder of smaller files. Intel has previously informed us that the company's SSDs are tuned specifically for servers with their high volume of I/O requests for smaller bits of data, and closely interact with the company's Rapid Storage Technology (RST) to some benefit. That's my guess about the drive's dominance in that test.
The 960 Pro turned in great numbers. What do they mean? So much of what makes Windows and applications seem slow is storage-related, so switching to any NVMe can make a system seem sensationally faster. As for the 960 Pro in particular, it's easily the best consumer NVMe SSD for those who deal regularly with large files. The only caveat is that your system must support booting from NVMe to make the best use of it (i.e. make the operating system faster). Many PCs do not.
Note: The 512MB version of the 960 Pro is a bit slower due to fewer chips and channels to distribute the data over.