Samsung Gear IconX review: Wireless earbuds with great sound—and lots of problems
You'll love the strong bass and 4GB of onboard storage, but these wire-free earbuds have scads of nagging drawbacks.
I think part of the problem is that the touchpads have made me gun-shy: If you tap them with just a bit too much pressure, the impact on your ear socket lands somewhere between annoying and painful.
Sound quality, dropouts, and ambient awareness
I'm not an audiophile, and I won't bore you with meaningless descriptions of the IconX's highs, mids, and lows. Wire-free earbuds are exercise earbuds, and when I'm working out, I mostly only care about volume and bass. The IconX are blissfully loud—easily loud enough to drown out the noise of exercise equipment. But even better, the earbuds sound lush and balanced across a wide dynamic range. Bass response is strong without sounding over-amplified, even for hip-hop and bass-heavy pop. Nonetheless, it took a happy accident to find the low end.
The earbuds come with the medium-sized eartips pre-installed, and for my ears, those tips deliver horrible bass. But swapping in the larger eartips created a much more snug fit, and bass response improved dramatically. Inexplicably, Samsung doesn't make any associations between eartip size and bass response in its user manual, and while I was happy with the comfort of the medium-size tips, it took some experimenting to discover I needed to size up for better sound.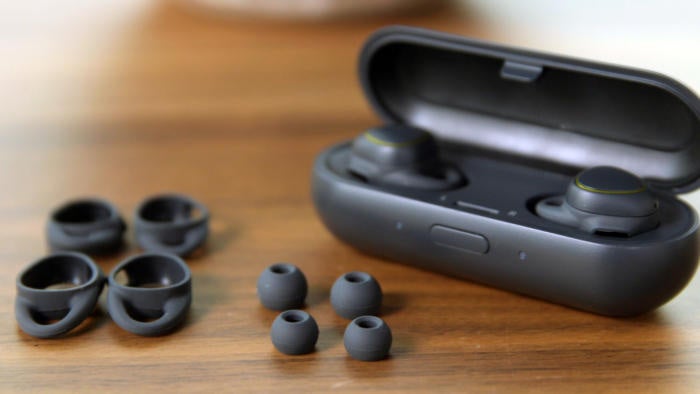 The Gear IconX come with three sets of wing tips and ear tips to help ensure a proper fit (and strong bass).
Because all wire-free earbuds rely on Bluetooth protocols for connectivity, some degree of dropouts should be expected. Luckily, the IconX suffered zero dropouts when playing on-board music, and a relatively infrequent number when streaming music from my phone. Streaming dropouts increased whenever I moved my phone a lot, but these momentary annoyances—for example, three times during an hour-long hike—were never a deal-breaker.
The IconX are outfitted with microphones, making them able Bluetooth headsets for phone conversations. But those mics can also be enlisted by an ambient mode that lets you hear the world at large when music is blasting. I found the mic volume to be unnervingly loud as they picked up the crunching of leaves underfoot as I hiked up Mount Davidson—though I guess I should be grateful that I also heard the approach of speeding mountain bikers.
Music sources: On-board and streaming
The IconX include 4GB on-board storage for your music files, a feature you won't find in most of the wire-free competition. "Usable" memory is quoted at less than 3.5GB, but Samsung says this is still good for about 1,000 music tracks. Supported formats include MP3, M4A, AAC, WAV, and WMA v9.
Previous Page 1 2 3 4 Next Page