Samsung Gear IconX review: Wireless earbuds with great sound—and lots of problems
You'll love the strong bass and 4GB of onboard storage, but these wire-free earbuds have scads of nagging drawbacks.
Playing on-board music helps preserve battery life, which you'll be grateful for, as I explain below. Playing tracks from internal memory also grants a greater degree of personal freedom, as you won't need to carry your phone in your hand or pocket when exercising. All in all, the on-board music function is a killer value-add—with a not-so-killer user interface.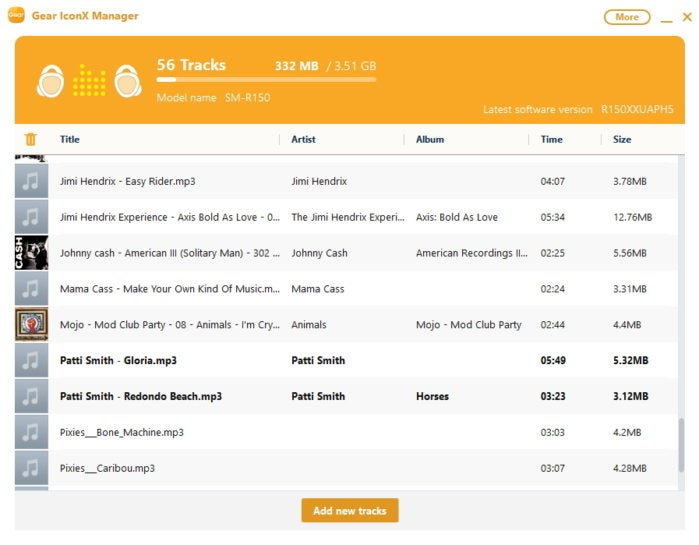 The Gear IconX Manager is basically just a dumping ground for music tracks.
To load music into the earbuds, you connect the IconX to your PC via USB, then fire up Samsung's Gear IconX Manager desktop software, and dump music files from a local PC directory to the manager app. It's an easy process, but the app doesn't support playlists, and you can't change the order of tracks. In fact, if you don't want to hear the tracks in the exact order in which they were loaded into the IconX Manager, you have only one recourse: Choose the Shuffle option in the Gear mobile app to randomize playback.
As for streaming music, the IconX play any audio that would otherwise be piped through your phone's speaker or headphone jack. But, as noted above, the earphones did suffer dropouts if I moved my phone too much, and audio stopped entirely (obviously) whenever I walked away from my phone, and exceeded the earphones' effective Bluetooth range of approximately 30 feet.
Finally, like all Bluetooth earphones, the IconX suffer a bit of latency, and won't sync perfectly with video sources. This means that if you're watching a video of someone talking or singing, there will be a time delay between what you see on screen, and when you hear the words or lyrics. It's not an issue for abstract music videos, but it can be really annoying if you're watching a video interview or concert performance.
Heart-rate tracking and S Health integration
At CES 2014, Intel revealed a prototype for earbuds with built-in heart rate sensors, and the world thought it was science fiction. Today, heart-rate sensors are commonplace on earbuds geared toward fitness freaks, and now Samsung checks off the box on this value-add. The implementation is wonky, but if you're already using a Galaxy phone, you might be happy.
If you want to hear your heart-rate data directly through the earbuds, you can toggle on "Exercise audio guide" in the Gear app. From there, long-press one of the touchpads to start a workout session, and your heart-rate data (along with other exercise metrics) will be shared via a pleasant-sounding robot voice at specific intervals. You can choose between distance intervals (0.5, 1, and 5 kilometers) and time intervals (5, 10, 30, and 60 minutes).
Previous Page 1 2 3 4 Next Page