Samsung Gear IconX review: Wireless earbuds with great sound—and lots of problems
You'll love the strong bass and 4GB of onboard storage, but these wire-free earbuds have scads of nagging drawbacks.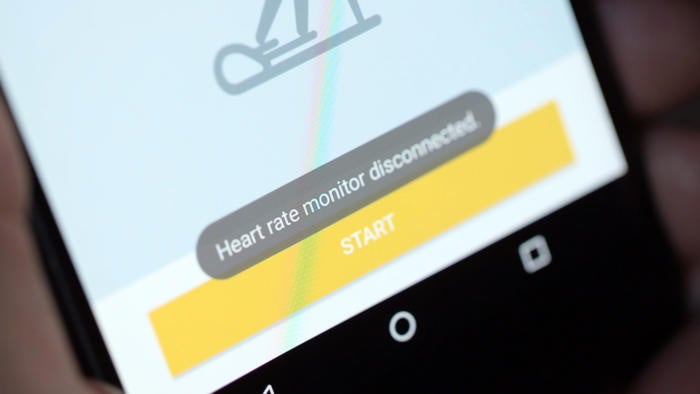 You better have a Samsung phone if you want to receive Gear IconX heart-rate data via the S Health app. Otherwise, you'll get this error message.
I ditched the American-accented robot for a posh-sounding British woman, but still found it annoying to have my music interrupted by my heart-rate numbers. The audio reports get even more disruptive when you start adding other data points like workout duration, distance, calorie burn, and speed. And you can't stop the robot from blurting out your data right in the middle of your favorite song.
The alternative is to view your heart-rate data in Samsung's S Health app. For example, you can choose to record data during an elliptical workout, and then watch a real-time report of your current heart rate in the app. This approach only makes sense if you have your phone within Bluetooth range, and you're exercising on stationary equipment. But here's the final gotcha: S Health will only recognize the heart-rate data if you're using a Samsung Galaxy phone. The IconX paired fine with the Galaxy S6 and S7 Edge, but when I used the earbuds with a Nexus 6P, Moto Z Droid, and Google Pixel XL, S Health would report "connecting heart rate monitor," immediately followed by "heart rate monitor disconnected."
Battery life and the bottom line
When you ditch your headphone jack for Bluetooth earphones, you suddenly have to worry about battery-life management. Samsung claims the IconX will deliver about 3.4 to 3.8 hours of continuous music when playing tracks off of on-board storage, and between 1.5 and 1.6 hours when streaming music from your phone. For some folks, those run times are already alarmingly short, but I found the earbuds conk out even faster than Samsung's claims.
When playing on-board music, the longest session I recorded gave me 2 hours, 40 minutes of continuous music. And I wasn't logging exercise data, which sucks more juice. When streaming music, I got 1 hour, 34 minutes, which aligns with Samsung's claims, but is still woefully short. Can you imagine a 1.5 hour restriction on your wired earphones? Welcome to 2016.
So, yeah, the Gear IconX are rife with problems. They're difficult to control, and don't always work as advertised. But, damn, they sound great and I can't stress how much I appreciate the freedom of a wire-free design and on-board storage. It's really easy to dump on the IconX, but the fact remains they would be my go-to earbuds for a bunch of exercise scenarios.
Previous Page 1 2 3 4