Share photos from your DSLR, no computer required
You don't need to crack open your laptop to tweet out high-quality photos.
I choose the shots I want by tapping on them, and then tap the blue Import button. The iPad will ask if I want to import all of the photos or just the ones I've selected. Make sure you instruct it to import only the selected shots. Both versions of the image are copied to the iPad. But I also get a message that reads: "Multiple formats imported - Photo Stream will upload only one version of each of these items." Yes! That's exactly what I want, because that version will be the JPEG, which is the perfect size for sharing online.
Once the upload is complete, the iPad will ask me if I want to keep or delete the files on the memory card. It's very important to keep them. I'll revisit those images once back home and working on my Mac.
I wait a minute or so, then tap the Photo Stream tab at the top of the interface. I'm looking for the images that I've just copied from my camera. If they're there—and they should be—I'm in business.
By having those pictures in my Photo Stream, I can safely remove the big Raw files and JPEGs from the Camera Roll on the iPad. I tap on the Photos tab, then tap on Edit in the upper-right corner, tap on the images I want to remove, and then tap the red Delete button in the upper-left corner. Both the Raw and JPEG versions of the shots are removed from my Camera Roll, freeing up that space on the iPad. (If you don't have a Wi-Fi connection at the moment, don't worry. Just wait until you do, then you can delete the pictures from your Camera Roll.)
Once you've completed this step, you successfully moved your pictures from your hardware device to the cloud. In other words, Apple is storing your pictures for you.
Editing and sharing the images on the iPad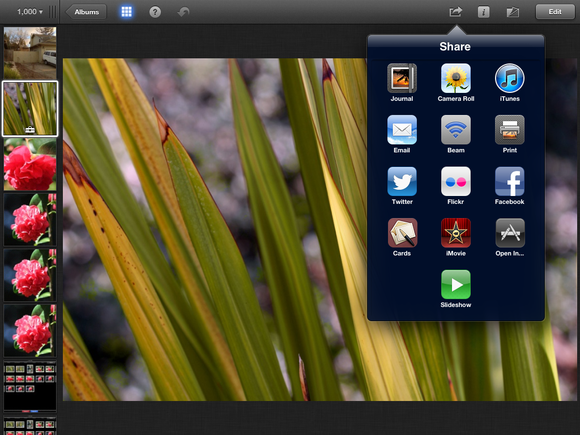 iPhoto for iOS can share your images to a variety of social networks.
It's time to move over to iPhoto for iOS, which can communicate with your pictures in iCloud. The JPEGs I just uploaded are available in the blue Photo Stream album in my iPhoto for iOS library. I tap on the Photo Stream album to open it, then scroll down to access the shots I need.
After some quick image editing, I tap the Share button and upload the photos to Flickr, Twitter, or Facebook. Or I can use the Open In command to send the photos to Dropbox or another location. OK. Break time is over. It's time to go back and take some more pictures.
Previous Page 1 2 3 4 Next Page