Sony has Bose and its Quiet Comfort noise-cancelling headphones in its sights
Coming soon from Sony: New wireless and wired headphones, an audiophile headphone amp, and a gold-plated Walkman featuring a chassis machined from solid copper.
Sony is tired of hearing about how great everyone thinks Bose's QuietComfort 35 headphones are. The Japanese manufacturer believes its brand-new MDR-1000X wireless noise-cancelling headphones are vastly superior, and it's so confident of its opinion that it's priced them at $400—$50 higher than its competitor's offering.
The company showed me the new cans earlier this week, allowing me to do A/B comparisons against its archrival's product. Granted, this was a controlled demonstration in a hotel suite (and Sony provided the QC35s), but I came away impressed—and not just with the noise cancellation and musicality. Sony's MDR-1000X boasts several innovative features that Bose's flagship headphones don't.
During the demo, Sony's team had me put on a pair of Bose's flagship headphones, with noise cancellation enabled, while they played some music on one of their high-end digital audio players. Then they paused the music and asked me if I could hear anything. I could—it was a faint, low rumbling sound. Then they asked me to take the headphones off. The sound was the simulated noise of a jet engine as you'd hear it from inside the aircraft's cabin, played on a large loudspeaker they'd hidden in the room.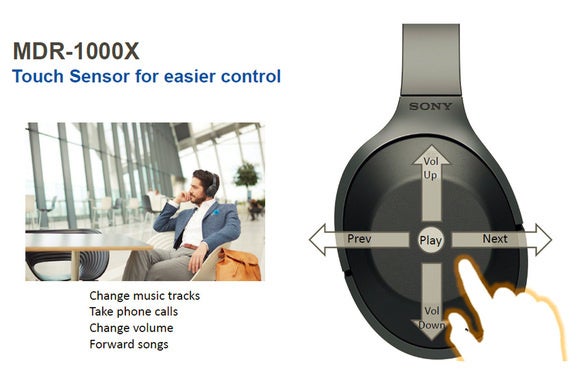 In addition to noise cancellation, Sony's new MDR-1000Z wireless headphones have touch controls for your phone or media player built right into the right-hand ear cup.
Next they gave me pair of MDR-1000X headphones, again with noise cancellation enabled. This time when the music stopped, I didn't hear anything but silence (yes, I verified that the loudspeaker was still rumbling). That was impressive, but Sony's next tricks were even better. I was instructed to hold my right hand over the right ear cup. When I did, I could hear the product manager speaking to me over the music.
Sony calls this feature "quick attention" mode, and it's designed to eliminate the hassle of having to remove your headphones or lift one of the ear cups when you see the flight attendant approaching to ask if you'd like to put in an order. There's also an "ambient sound" mode that picks up outside sounds and pipes them to your ears while you listen to music, so you won't miss announcements such as your boarding call.
These features are enabled by two microphones mounted to the headphones, one on the outside and another on the inside. Both are connected to an onboard digital signal processor, and Sony says the internal mic can recognize when the circumaural ear cups are imperfectly sealed against your head, such as they might be if you're wearing eyeglasses or if you have long, thick hair. In those situations, the DSP will attempt to compensate for the imperfection.