Spec for spec, the iMac is a bargain over the Surface Studio
Just for fun, we compare Microsoft's brand-new desktop PCs to similarly spec'ed iMacs released a year ago—and the iMacs are $700 to $1,000 cheaper.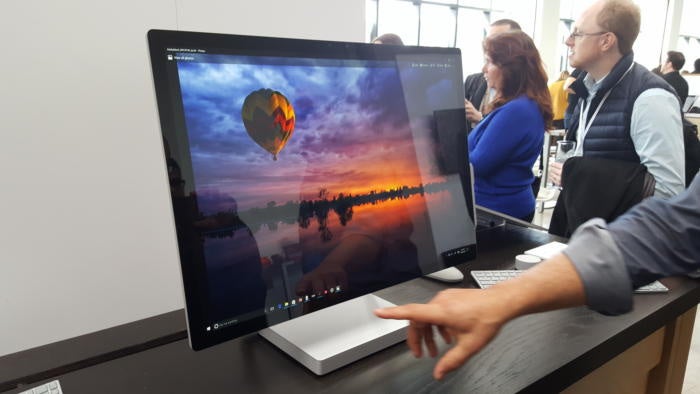 Credit: Mark Hachman
Microsoft announced huge updates to its Surface line of tablets on Wednesday, as well as a brand-new Surface Studio, an all-in-one Windows 10 workstation that takes aim at the iMac. Microsoft's first desktop PC has a 28-inch touchscreen display that you can stand upright and control with a mouse and keyboard, or tilt toward you to use with the Surface Pen or your fingers, directly on the screen.
While just this morning I was making fun of the idea of a touchscreen Mac, the first images of the Surface Studio have me eating my words a little bit. The hinge, which Microsoft calls the "Zero Gravity Hinge," lets the display tilt toward you all the way to a 20-degree angle, kind of like a drafter's table—and very similar to the angle I get when I prop a 12.9-inch iPad Pro on the Twelve South ParcSlope stand. It's a comfortable way to work.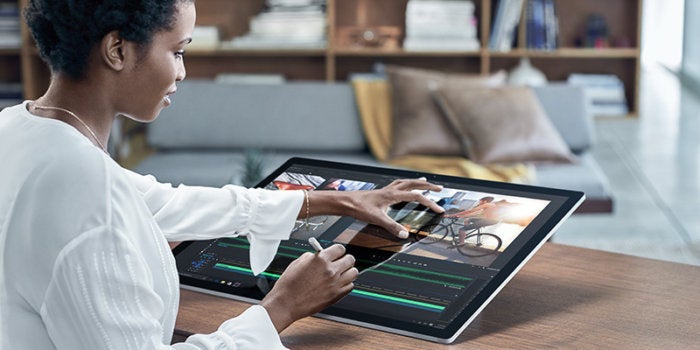 The hinge lets you tilt the Surface Studio toward you, so you can use work directly on the touchscreen like it's the world's largest iPad Pro.
Unlike the Surface Pro tablets and Surface Book, the Surface Studio is meant to live on a desktop—the 28-inch, 4500x3000 screen isn't portable in the slightest, it's permanently attached to the stand, and it weighs 20 pounds. It's an iMac—but it's new and cool. Apple's iMac line hasn't gotten a refresh since October 2015, and its other desktop Mac, the Mac Pro, has languished since December 2013. At least Microsoft is pushing out innovative desktop designs—with decent specs to boot—until Apple finally ships new Macs. Thursday's Mac event is expected to feature an overhauled MacBook Pro design, and perhaps new iMacs too, although those might not be ready just yet.
As we wait for new iMac models, we thought we'd compare the high-end Surface Studio to the best iMacs you can buy today. The Surface Studio isn't cheap by any stretch of the imagination, but what premium will you pay for its clever mix of power and flexibility?
Entry level
The cheapest Surface Studio, which ships December 15, is priced at $2,999. For that, you get a quad-core Intel Core i5, 1TB of storage, 8GB of RAM, and a 2GB GPU. Now, that's a 6th-generation Core i5, which is the Skylake chipset, not the newer Kaby Lake chipset, since quad-core Kaby Lake chips won't be available until early 2017. The storage is a "rapid hybrid drive," which is the same as a Fusion Drive in an iMac, combining solid-state and spinning-platter drives into one volume. There's no all-SSD option for the Surface Studio.