SVS Prime Elevation speaker review: An incredibly versatile audio solution for the home theater
These smartly designed speakers are particularly great as the height channels in a Dolby Atmos, DTS:X, or Auro-3D configuration.
That's where the Prime Elevation speaker comes in. It was initially designed as a direct-firing height-effects speaker that the average consumer could install for Dolby Atmos, DTS:X, or Auro-3D. Several late-night sessions between SVS lead engineer Smith Freeman and SVS CEO Gary Yacoubian led to an "a-ha" moment where the pair realized that their initial design could solve many other speaker placement problems, too.
An extremely versatile speaker
Hands down, this is the most versatile speaker I've ever seen. You'll get fantastic sound whether your set them on a table, place them on a speaker stand, or mount them on a wall or ceiling. Two-channel, multi-channel, or immersive audio? Makes no difference. Want to make a dipole or a bi-pole surround speaker, slap a pair together and you can make either of those too.
You can use the SVS Elevation speakers in acoustically challenging rooms, appease your spouse's aesthetic demands, or even go against conventional best practice when you need to. In other words, you can solve pretty much any installation challenge. The Elevation come in your choice of ash black, high-gloss black, or gloss white to blend into your decor.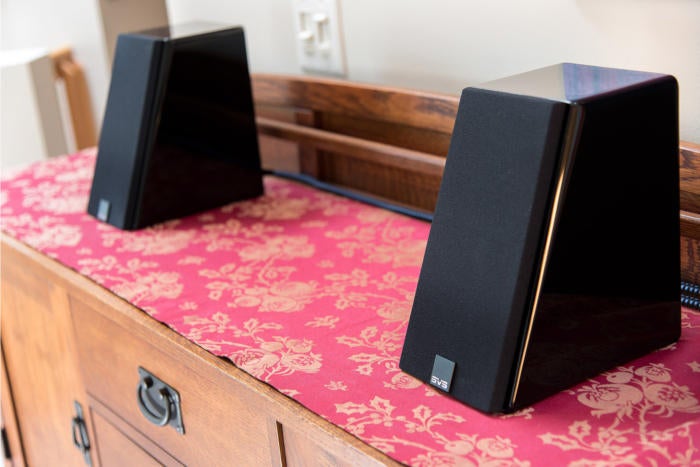 You can use the Prime Elevation in a stereo configuration. Just use a subwoofer to handle deep bass.
What's the secret to their flexibility?
The secret to the Prime Elevation's flexibility lies its combination of small size, full-range response, angled design, and its ingenious four-way mounting bracket (though you certainly don't need to mount the speaker to use them). The trapezoidal-shaped Prime Elevation speakers sport a one-inch tweeter that crosses over to the 4.5-inch woofer at 2.5kHz along a sloping front plane with a flat back. That means from a single position, the speakers can be angled in any one of four ways depending on how you mount them. Mounting them on the included bracket provides a tiny bit of breathing room for the rear, 1.0-inch port.
You can mount most any speakers on brackets, of course, but the trapezoidal shape of the Prime Elevation make the speakers directional in ways that no flush-mounted box speaker can match.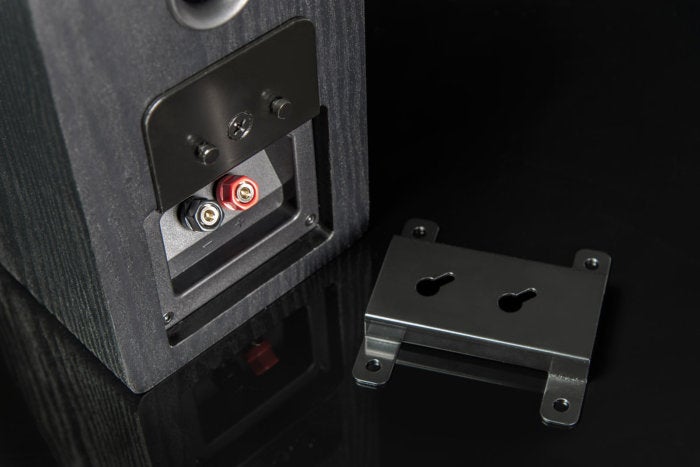 The four-way flush mount allows you to hang the speakers in any one of four different orientations.
Small size without compromise
When I first received my pair of Prime Elevation speakers, I was immediately taken by their build quality and weight. The speaker's FEA-opmtimized cabinet is comprised entirely of high-quality MDF and internally braced with MDF too. You feel it. Each one weighs in at a hefty 7 pounds, 8 ounces. Short five-way binding posts are provided for wiring to your A/V receiver or amplifier.
Previous Page 1 2 3 4 Next Page