Tested and judged: The best graphics cards for VR gaming
Virtual reality demands potent firepower. We benchmarked nearly a dozen high-end GPUs to find the best graphics cards for VR gaming.
After years of teases, tweaks, and trailers, virtual reality is finally here, with the Oculus Rift and HTC's Vive headsets landing in the hands of gamers and real-world Holodeck fans. But the birth of PC VR will no doubt spawn a legion of video card upgrades as well. After all, exploring immersive virtual worlds demands some seriously heavy-duty graphics firepower to hit the requisite 90 frames per second that prevents you from blowing chunks all over your real-life computer.
Oculus recommends a GeForce GTX 970 or Radeon R9 290, at the very least, for VR gaming, but you'll want something even beefier than that if you plan to turn up the graphical bells and whistles or future-proof your rig. PCWorld's massive graphics card roundup already shows you how every GPU from $100 to $1,000 compares to each other, complete with buying recommendations, but it focuses on traditional gameplay. That's a handy starting point, but we wanted to run some VR-specific benchmarks to see how AMD and Nvidia's top cards stack up.
Meet the SteamVR performance test
Unfortunately, most of the really heavy-duty VR benchmarks—like Futuremark's VRMark and Crytek/Basemark's VRScore—aren't available yet, and traditional game benchmarking tools don't really apply to VR software, as PC Perspective superbly explained last week.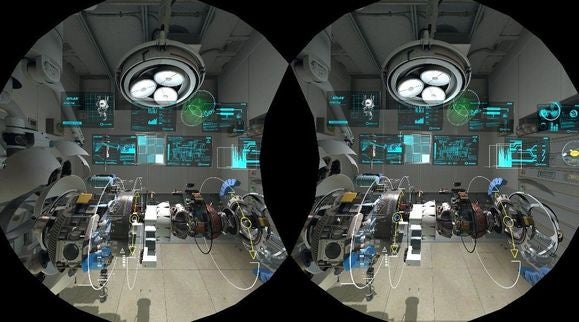 A scene from the SteamVR Performance Test.
But on the bright side, there's already one VR benchmarking tool in the wild: Valve's aptly named (and free!) SteamVR Performance Test, which renders a scene from the Aperture Science Robot Repair VR demo using Valve's Source engine, then spits out results for the number of frames tested, the number of CPU-bound frames, the number of frames that fell below 90fps, and an overall average fidelity rating. It also provides a graph showing overall performance during the demo.
The average score isn't a simple rating. While most gameplay benchmarks render the same scene at the same fidelity over and over again, the SteamVR Performance test uses adaptive fidelity to change the detail settings on the fly in order to try and keep frame rates over the crucial 90fps barrier. The final score takes your average fidelity rating and average frame rate into account, though Valve hasn't revealed specifically how it is calculated.
Because of that, the results aren't as neat and tidy as simply reporting frame rates and times with traditional games, but the SteamVR Performance Test still provides helpful insight into how various graphics cards perform in this basic VR scene. After the benchmark runs, it lets you know if your system is "Ready," "Capable," or "Not Ready," along with helpful text explaining why it was scored the way it was.