Tested and judged: The best graphics cards for VR gaming
Virtual reality demands potent firepower. We benchmarked nearly a dozen high-end GPUs to find the best graphics cards for VR gaming.
We tested 10 different AMD Radeon and Nvidia GeForce graphics cards—all the current models that meet or exceed the Oculus minimum recommended specification, as well as the Nvidia/AMD offering right below the minimum spec—on PCWorld's dedicated graphics card testbed system. The eight-core Intel Core i7-5960X and 16GB of Corsair Vengeance DDR4 RAM inside the system far exceed Oculus' minimum recommended specs, but that shouldn't be much of an issue, especially since we're testing graphics performance specifically.
Interestingly, I slapped a few of these cards in my personal gaming PC for comparison, as its four-core Core i5-3570K more closely toes the recommended line, and it actually resulted in slightly higher scores than our monstrous GPU testbed system, to the tune of 0.1 to 0.2 higher overall ratings. That seems to suggest that thread performance is more important to this particular benchmark than additional cores, as the Core i7-5960X is clocked at 3GHz, and the stock clock for the 4-year-old Core i5-3570K is 3.4GHz.
VR graphics cards benchmarked
But enough chit-chat! Here are the graphics cards we tested, and how they stacked up in the SteamVR Performance Test's average overall score, from high-end GPUs to just below the minimum recommended Oculus spec of a Radeon R9 290 or GeForce GTX 970.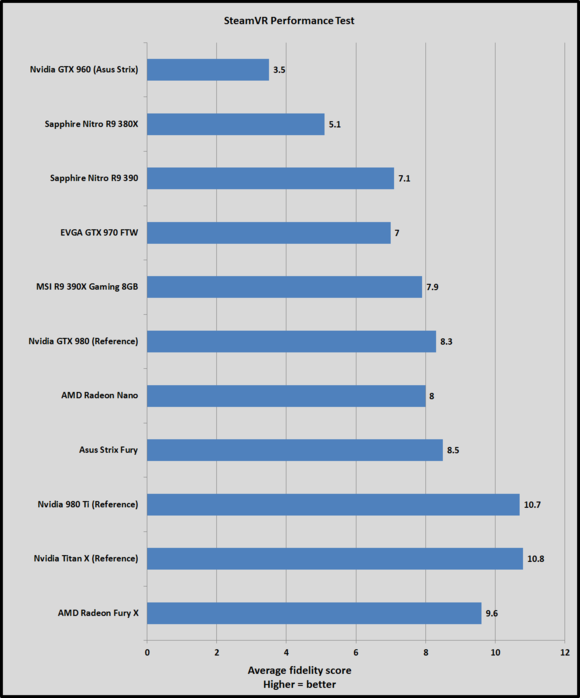 SteamVR average-fidelity performance results for VR-ready graphics cards. Click on image to enlarge.
We also took screenshots of the result pages so you can see the full details for each graphics card's performance. The downward dips in the graphs for each card represents the SteamVR Performance Test having to lower the visual quality in order to maintain the sacred 90fps mark—actually roughly 100fps, FRAPS data indicates. (We aren't showing FRAPS data as the image quality scaling makes straight frames per second data misleading; I just watched it as a sort of sanity check while running Valve's test.)
In the interests of minimizing on-page space, we've compiled each family of cards into large, singular images; click on the images below to enlarge them and browse through the results. We used a mix of reference and custom cards, but this provides a good ballpark look at each GPU's capabilities.
First up: Nvidia's GeForce cards. From left to right, you'll see results for the Titan X, GTX 980 Ti, GTX 980, GTX 970, and the GTX 960 (which falls below Oculus' minimum spec).

Next, the AMD Radeon lineup. From left to right: Radeon Fury X, Radeon Fury, Radeon Nano, Radeon 390X, Radeon 390, and the below-min-spec Radeon 380X.

Previous Page 1 2 3 4 Next Page