Tested and judged: The best graphics cards for VR gaming
Virtual reality demands potent firepower. We benchmarked nearly a dozen high-end GPUs to find the best graphics cards for VR gaming.
Breakdown and buying recommendations
A few things jump out immediately when looking at the data. In terms of sheer firepower, the GeForce GTX 980 Ti and Titan X can't be beat, coming in with far higher scores than the Radeon Fury X. Both Nvidia cards essentially max out on Very High image quality throughout the entire benchmark, while the Fury X shows many more dips down into High image quality. All three deliver top-notch VR results, however.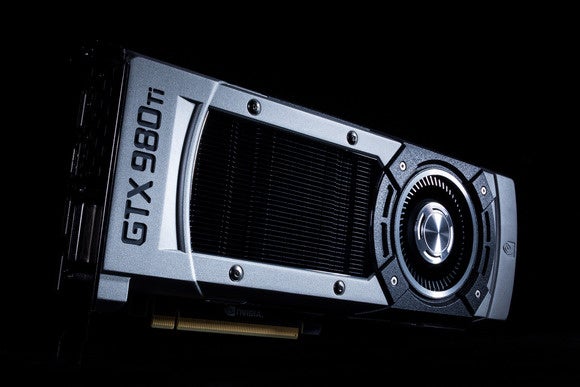 Nvidia's 980 Ti GPU outperforms AMD's Radeon Fury X in this test.
Stepping down a notch, the GTX 980 also shines, outpunching the Fiji-powered Radeon Nano. Can we just stop for a second and appreciate that a mini-ITX card like the Nano is capable of pumping out a high-quality VR experience, though? That seems like it shouldn't be possible, yet it is. AMD's air-cooled Fury—or at least the overclocked, hyper-cooled Asus Strix version we tested—provided a slightly better overall experience than the reference GTX 980, however. With Fury cards recently dropping in price down to around the $500 mark, that means the AMD and Nvidia cards in that price range are essentially locked in a dead heat, though overclocked GTX 980 cards will likely exhibit higher performance.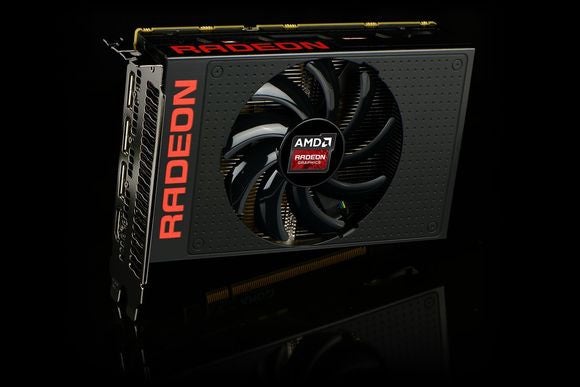 AMD's pint-sized Radeon Nano is no slouch with VR.
With an overall SteamVR Performance Test score of 7.9, the overclocked MSI R9 390X Gaming 8GB we tested falls just short of the Nano and a half-point shy of the GTX 980, but hold your horses before you call that an outright Nvidia victory. While the GTX 980 indeed delivers a better raw VR experience, street prices for GTX 980 cards start at $460 and only climb north from there at the time of publication. Radeon R9 390X models, though, can be found as cheaply as $385 on Newegg—a pretty compelling price for a card capable of driving an experience that stayed at High or Very High image quality throughout the benchmark.
It's a toss-up in the next-lowest pricing tier—the cheapest Oculus-recommended graphics card families. Both the Sapphire Nitro 390 and the EVGA GTX 970 FTW deliver roughly similar results, and both can be found at prices starting at around $300 on Newegg. Take your pick!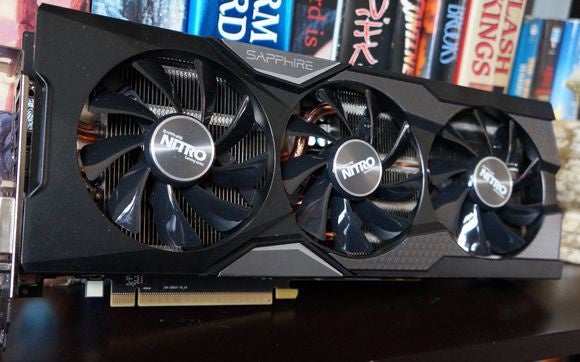 This is actually a Sapphire Nitro Fury, but the Nitro R9 390 sports a similar cooling arrangement. Credit: Brad Chacos
For kicks, we also tested an EVGA GTX 960 SSC and Sapphire Radeon R9 380X, the cards that fall just below Oculus' hardware recommendations. While the SteamVR performance test rated both as "Capable"—the Radeon much more so than the GeForce card—image quality often dipped into Medium for both, and the GTX 960 spent most of the benchmark there. Indeed, a note in the benchmark results outright says, "We recommend upgrading your graphics card," and we have to agree. Valve's Source engine isn't particularly demanding, and future VR titles will only demand more horsepower. These cards might run simple VR games and videos, but would likely struggle with more demanding games like EVE Valkyrie. Stick to the $300 and up graphics cards for VR, and know that the more you can spend on graphics firepower, the better your experience will be.
Previous Page 1 2 3 4 Next Page