Rick Perry, climate change skeptic, soon to oversee U.S. supercomputing
Former Texas governor has called for closing the Energy Department he's been tapped to run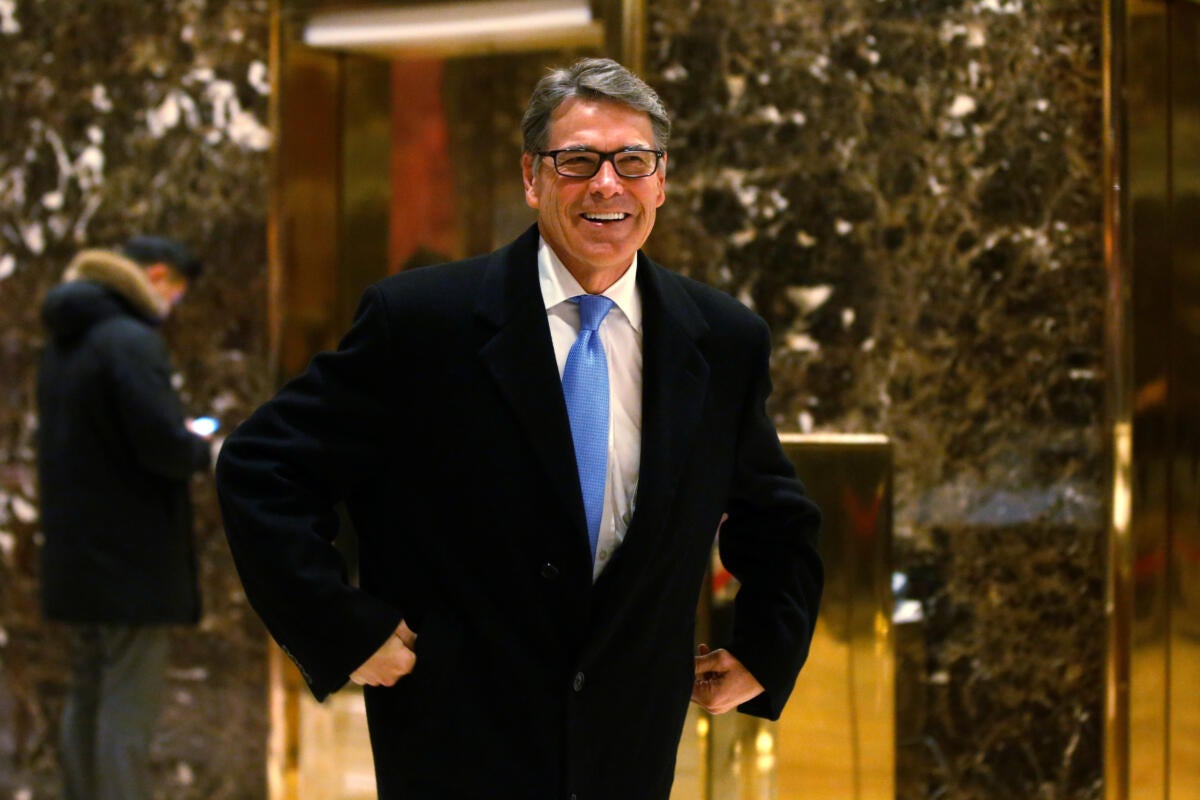 President-elect Donald Trump's nominee for energy secretary, former Texas Gov. Rick Perry, will also have charge of the nation's largest supercomputers. These systems are used to investigate "national challenges," which includes climate change. But Perry is a climate change skeptic, as is Trump, and believes the science is unsettled.
Perry's skepticism about the science of climate change may be a problem for the department he's been tapped to run; the Department of Energy (DOE) considers climate a major research focus.
"DOE plays an important role in climate change research -- a very large role," said Cliff Mass, a professor of meteorology at the University of Washington.
Perry believes the U.S. would be better off without DOE. At a debate in 2011, he said that he wanted to eliminate the department, along with the Commerce and Education departments, too.
Eliminating the department may be impossible. Its need for the most powerful supercomputers imaginable is a result of its primary mission: Safeguarding the nation's nuclear stockpile.
With the end of underground testing of nuclear weapons in 1992, "that meant you had to do simulation and modeling much more -- you couldn't go to Nevada and set off a [bomb]," Paul Messina, a computer scientist and distinguished fellow at Argonne National Labs who heads the U.S. Exascale Computing Project, said in an interview last month.
In response, the U.S. created the Accelerated Strategic Computing Initiative (ASCI) to spur vendors to build bigger and better supercomputers, said Messina. He ran the project in 1999 and 2000, when it had a budget of about $650 million a year. The U.S. now tests nuclear weapons virtually, thanks to improving computing power.
The nation's three Energy Department weapons labs -- Livermore, Los Alamos and Sandia -- use supercomputers to model and simulate, for instance, materials under certain pressures and temperatures. This supercomputing capability for nuclear weapons research also has wide applicability for industry and science.
The DOE has made compute time available to firms such as Goodyear, Boeing and Siemens Energy, which use these systems to virtually test how products work as designs and materials change. The U.S. has broadly opened this computing capability to any firm that can boost American competitiveness.
"DOE supercomputers are hugely important to the basic sciences -- in many cases, they are the only tools we have to examine really hard problems and explore really fundamental questions," said Peter Harsha, director of government affairs at the Computing Research Association.
Supercomputers are important in every scientific field and gaining access to these systems "is highly competitive," said Harsha. "The research DOE supports to develop these leading edge machines helps drive innovations throughout the IT sector, pushing the boundaries of what's possible in hardware and software."