Solar panels don't last forever and degradation varies wildly, study says
Top-performing solar modules were produced in China and Tijuana, Mexico.
A recent study by an international certification body found that how well solar panels stand up to wear and tear varies greatly, but where they're manufactured has little to do with quality.
The report, the PVEL-GTM PV Module Reliability Scorecard was published by Norway-based DNV GL. The tests, performed by PV Evolution Labs (PVEL), included five test categories. The number of photovoltaic module manufacturers taking part varied from 17 to 22, depending on the test.
The modules were tested to determine how their solar conversion efficiency stood up to varying degrees of stress. Solar cell "efficiency" refers to the proportion of energy from sunlight that can be converted via photovoltaics into electricity. On average, today's solar panels have a 15% to 18% solar efficiency rate (the best PVs have as high as a 22% conversion rate). So, each solar panel would be tested based on its beginning efficiency rating.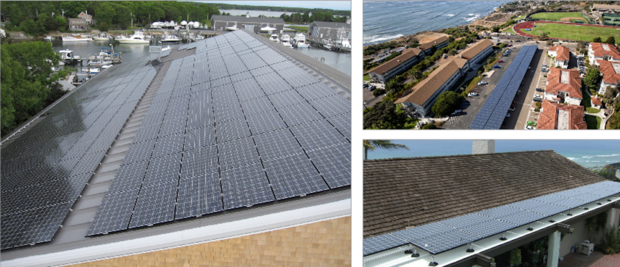 Solar panels produced by Kyocera Corp. were one of two top-performing products, according to the study. Credit: Kyocera
The five test categories in the 2016 Scorecard cover each of the major sources of performance degradation over the lifespan of a solar module — repeated Thermal Cycling, Dynamic Mechanical Load Stress, Humidity-Freeze conditions, Damp Heat Exposure and Potential-Induced Degradation.
From 55% to 60% of the top performing modules were manufactured in China, according to the study. "This demonstrates that manufacturing location is not a good proxy for reliability," the study stated.
The researchers cautioned that their tests results should be taken with a grain of salt, stating that "there is no truer test of a solar module's reliability than real-world conditions."
But, as 85% of the 234GW (a gigawatt is a billion watts) of installed global PV capacity has been in the field for less than five years, it will be more than 20 more years before actual field data can be gathered, the report stated.
The tests and the results
Overall, "many PV modules performed well across all tests," according to the report. For example, eight manufacturers' products degraded less than 3% in solar conversion efficiency after undergoing the Thermal Cycling test four times. However, 19 companies participated in the Thermal Cycling test with efficiency degradation rates varying from 1% to 35%.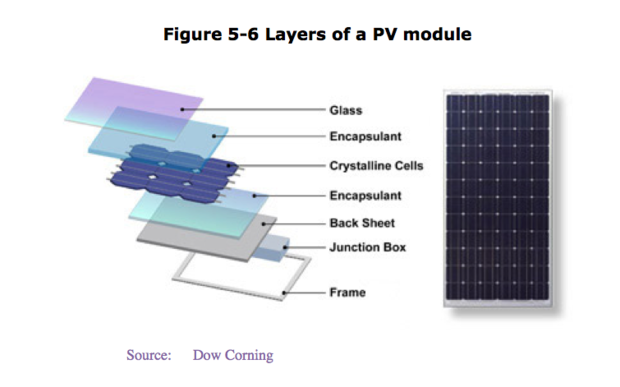 The various layers of a PV module. Click on image to enlarge.
The Thermal Cycling test consists of modules that are heated from 40° Celsius to 85° Celsius. When the temperature rises above 25° Celsius, the maximum power current is injected into the modules, causing localized heating if solder joints are degrading.