Solar panels don't last forever and degradation varies wildly, study says
Top-performing solar modules were produced in China and Tijuana, Mexico.
Four of seven of the top performing modules were manufactured in China. Phono Solar (produced in Nanjing, China) and Kyocera Corp. (based in Japan but produced in Tijuana, Mexico) were the top performing manufacturers, with less than 1.5% degradation. Other top performing modules were produced in Taiwan.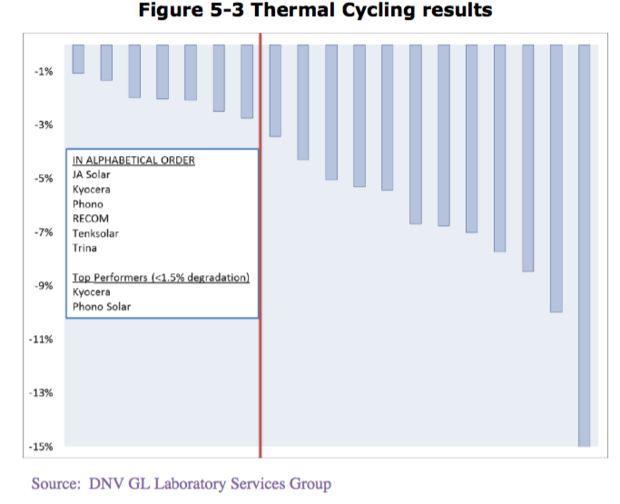 Credit: DNV GL Laboratory. Click on image to enlarge.
The Damp Heat test also produced varying results. Modules were held at a constant temperature of 85° Celsius and a relative humidity of 85% for 1,000 hours (about 42 days).
Twenty-one companies participated in the Damp Heat Test, with degradation rates varying from 0.6% to 58.8%. Six out of 10 of the top performing modules were Chinese-produced. The other top modules were produced in Mexico, Taiwan and Singapore.
Another test that produced wide-ranging results was the Potential Induced Degradation (PID) test, where a 1kV (kilovolt or 1,000 volts) is applied in damp heat testing conditions for 100 hours. The test provides the temperature and moisture conditions necessary to stimulate increased leakage of electrical currents.
Twenty-two companies participated in the PID test, with degradation rates varying from 0% to -58.3%. Seven of the 13 top performing modules were Chinese-produced. The remaining top performing modules were produced in Mexico, Taiwan, Singapore and Poland.
Why the study was performed
One of the reasons for the study, DNV GL stated, is that the dramatic drop in module pricing, which helped catapult adoption, introduced quality concerns.
Solar photovoltaic (PV) module costs have plummeted 75% since the end of 2009.
"The PVEL-GTM PV Module Reliability Scorecard aims to address this critical problem. With its supplier specific performance analysis, the Scorecard can help investors and developers generate quality-backed procurement strategies to ensure long-term project viability," DNV GL stated.
Typically, a 20% decline in PV module efficiency is considered a failure, according to the U.S. National Renewable Energy Laboratory (NREL). But there is no consensus on the definition of failure, because a high-efficiency module degraded by 50% may still have a higher efficiency than a non-degraded module from a less efficient technology.
The current standard 25-year warranty is typically triggered if modules degrade more than 3% within the first year and at a linear rate down to 80% of its original power-rationg in year 25, according to GTM Research.
Most solar installers build into contracts an expected photovoltaic efficiency degradation rate that typically doesn't exceed 20% over the contract's term. For example, SolarCity, the largest residential solar installer in the U.S., guarantees that its panel efficiency won't degrade below an 80% efficiency rating over a 20-year power purchase agreement (PPA) contract.