Solar shift: Falling costs make owning better than leasing
The change comes as government rebates and tax incentives for solar setups dwindle.
The price of rooftop solar systems for residential and small business continues to drop precipitously, and consumers are increasingly choosing to buy their systems rather than lease them to reap the full financial benefits.
Rooftop solar systems that used to cost as much as a luxury car five to 10 years ago now cost about the same as an economy car, or about $15,000 or $18,000 on average. And, the return on investment for a solar system is now estimated to be from three to five years, depending on government rebates and tax incentives and the region in which they're installed.
In 2014, 72% of residential solar systems in the U.S. were owned by a third party, such as SolarCity, Vivant Solar and Sunrun, according to a report by GTM Research.
That means most consumers leased their systems or were under a power-purchase agreement (PPA) with a solar provider.
But by 2020, direct ownership of rooftop solar systems will surpass third-party ownership in the U.S. residential solar market, accounting for 54% of the forecasted 5.2gW (gigawatt) market, GTM's report stated.
"Our data and others are showing that consumers are trending away from the leasing option in favor of owning their solar systems, either with a loan or with cash," said Vikram Aggarwal, CEO of solar system marketplace EnergySage.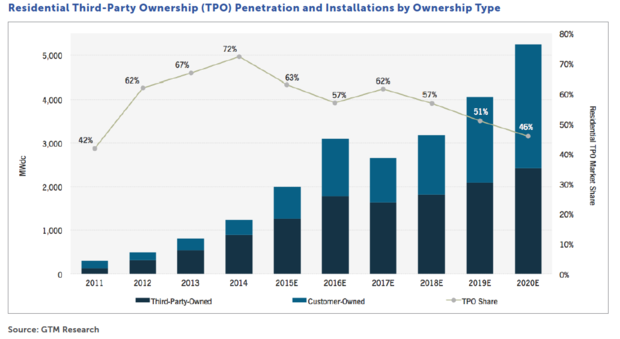 Ownership of solar systems is expected to pass leasing and power-purchase agreements (PPAs) by 2020. (Click for larger image).
Creating a market with PPAs
Founded in 2009, EnergySage is similar to Expedia or Kayak in that it's a free online service that allows users to input their information and retrieve standardized quotes for a service -- in this case, the installation of a rooftop solar system. EnergySage makes money from fees paid by solar suppliers and is part of a nascent industry that includes other, smaller players such as Geostellar Inc.
"From our perspective, we don't care what the customer selects. We get the same revenue if you select a lease or PPA or take out a loan for the system," Aggarwal said. "We're agnostic toward your decision."
In 2015, 93% of EnergySage users chose to own their system, compared to the national average of 63%, according to Aggarwal.
The U.S. residential market has grown in 15 of the last 16 quarters, largely due to financing solutions like leases and PPAs, according to GTM Research. Last year, residential solar was once again the fastest-growing sector in U.S. solar, with more than 2gW (gigawatts) installed for the first time ever and growing 66% over 2014.