Solar shift: Falling costs make owning better than leasing
The change comes as government rebates and tax incentives for solar setups dwindle.
Ten years ago, the rooftop solar power industry got a tremendous kickstart through PPAs, which allowed a consumer to pay nothing for the installation and ongoing maintenance of a system while still reaping cost savings through lower energy bills.
How power-purchase agreements work
PPAs are typically 20-year contracts where the solar system provider covers the system costs but receives the federal or state renewable energy incentives and sells the power generated at a fixed rate back to the consumer.
On average, a PPA agreement will save a consumer 30% of the per-kilowatt price charged by the solar system provider, which is lower than a standard utility rate. For example, SolarCity charges customers about 13 cents per kilowatt in Massachusetts, while the average utility rate is currently about 19.5 cents.
While PPAs allow rates to rise over the term of a contract, those increases have typically been lower than those charged by utilities. Retail electricity prices are expected to continue to rise over the next few years, according to a report from Deutsche Bank, as they have in the U.S. every year since 2002.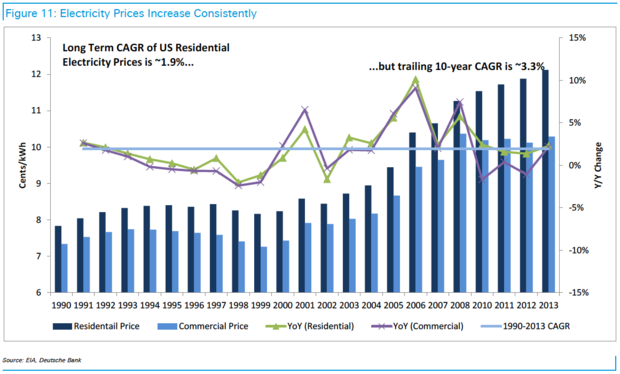 Retail electricity prices have steadily increased over the past 10 years and they're expected to continue to do so for the foreseeable future. (Click for larger image).
Aggarwal argued that while signing a 20-year PPA may eliminate upfront installation costs, the solar system provider gets 80% of the financial benefits from the system.
Even if consumers borrow money to pay for a solar system instead of buying one outright, they'll still reap 40% to 80% of the cost savings while paying off the loan, Aggarwal said.
Cost of solar systems
As retail electricity costs continue to rise, the cost of solar has plummeted. For example, solar panels saw steep price reductions from 2008 through 2012 and were a primary driver for cheaper installations. In 2008, solar modules cost a little more than $5 per watt of generating capacity. In 2012, they were below $1 per watt.
Since 2012, however, module prices have remained relatively flat -- about 50 cents per watt of capacity -- and price declines for installed systems have been driven primarily by reductions in other hardware costs, such as inverters that transform a solar panel's direct current (DC) into usable alternating current (AC) electricity.
Over the next few years, the industry is likely to see the final piece of cost reduction -- customer acquisition costs or "soft costs" like include sales and marketing. Soft costs are expected to drop by 50% over the next four years, according to Deutsche Bank.
Taken together, tremendous drops in hard and soft costs has lowered the installation price for rooftop solar panels to about $3 to $4 per watt of installed capacity; the average installation today is 5kW (kilowatts, according to a report by the Lawrence Livermore National Laboratory. That puts the cost of a typical system at between $15,000 and $20,000.
Previous Page 1 2 3 4 Next Page