10 Internet of Things companies to watch
Enterprise and consumer IoT companies attracting big investment dollars
It's good to be an Internet of Things startup these days. Cisco forked over $1.4B for IoT platform provider Jasper in February. Nokia Growth Partners has raised a $350 million IoT-focused investment fund. And IoT startups are pulling in tens of millions in venture funding.
Verizon, in its new "State of the Market: Internet of Things 2016" report, states that its venture arm estimates that while consumer-oriented IoT firms pulled in 15% more funding than enterprise-focused ones in 2014, it is enterprise IoT startups that are now raking in the big bucks. Verizon Ventures says enterprise IoT startups attracted 75% more funding than consumer IoT upstarts last year and that enterprise IoT startups are expected to grab 2 to 3 times as much funding as their consumer counterparts this year.
"As I looked at IoT about a year ago, it became very clear that the path to revenue was a very long one in the consumer IoT space unless you're a hardware business -- and we're not in the hardware business," says Ed Ruth, a director at Verizon Ventures, explaining his outfit's interest in enterprise IoT. "So we started digging into the industrial or enterprise IoT space and what became very clear was that there were a number of enterprises that needed answers today to known problems that traditional frameworks weren't quite solving."
Venture Scanner, which helps its customers identify startups and trends, broke out data for Network World to show where Enterprise IoT funding is going (defining Enterprise IoT startups as those that "seek to create 'connected devices' for businesses"). Corporate office/white collar IoT and smart cities/buildings are the two biggest areas of investment, with industrial and security IoT being among the newer, hotter categories.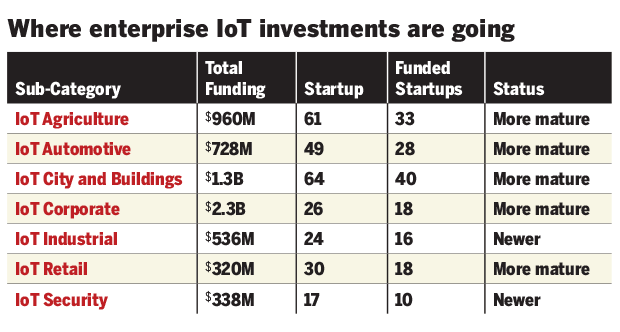 Venture Scanner
Here's a look at some of the IoT newcomers, both enterprise and consumer, that have caught our eye. And just to keep the list manageable, we've limited it to those companies that have announced venture funding since mid-2015, with an emphasis on more recent investments. We realize this list, ordered alphabetically, is not all-encompassing…
Arrayent
Founded: 2002
Headquarters: Redwood City, Calif.
Funding: Close to $27 million in all, with $15 million in Series C funding in January, including from ORIX Ventures.

Focus: Provides an IoT platform that hooks up consumer products from the likes of Whirlpool and Liftmaster with their customers via the Internet. The company, which is no typical startup in that it's been around since 2002, showcased an Internet-connected Febreze scent dispenser at the CES show in Vegas earlier this year. Arrayent works with a bunch of partners, from systems integrators to mobile app developers to processor companies like Broadcom and TI. Its secure Connect Platform is chock full of capabilities, from device and user management to security and UI tools.