12 missing features we'd still love to see in Windows 8.1
Windows 8.1 changes a lot about the core Windows 8 experience, but it can be so much better if Microsoft adds just a bit more.
Windows 8.1 is Microsoft's chance to regain the goodwill lost in the contentious release of the new-look Windows 8 operating system--and by and large, the feature-packed re-do smooths out the OS's more onerous rough edges. (Boot to desktop, and a better Windows Store? Yes, please!) Sure, Windows 8.1's improvements are more about refinement than revolution, but this is an update, not a whole new OS.
While Windows 8.1's new apps and hidden features should leave you mostly sated if you've already bought into Microsoft's modern-style vision of the future, the update still isn't...quite...perfect. In fact, after spending more than a day tinkering with Windows 8.1, we can think of a dozen additions we'd love to see.
With the official release of Windows 8.1 likely still months off, Microsoft has time to add these features to the update. Fingers crossed!
1. Better UI hints
The simple return of the Start button, even in its bastardized "drop you on the Start screen" form, fixes one of the major interface woes found in the original Windows 8.0 release, especially when paired with the new All Apps button. But Microsoft shouldn't stop there.
Windows 8.1 is still chock-full of hidden menus that appear only if you know the secret handshake--which corner to touch or gesture to make. Many of the most crucial system functions are buried in those elusive screens. Give us subtle visual clues for hot corners! Give us the ability to pin the Charms menu open! Drag those crucial elements into the light!
2. Make the desktop-friendly features more obvious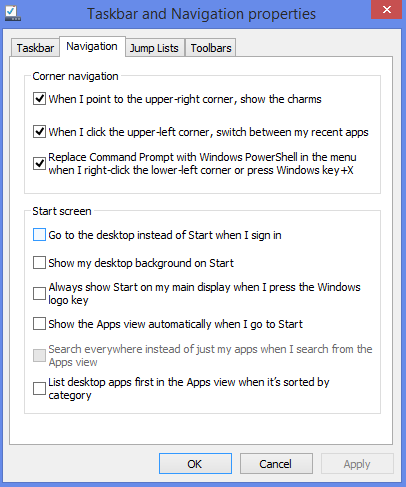 Windows 8.1 goes a long way toward making Microsoft's revamped OS more palatable to the desktop fanatics (like me!), but it does so grudgingly. Sure, you can shut down your PC from the new Start button, but only if you think to right-click on it and sift through a long list of administrative options. Likewise, helpful additions like the ability to boot to the desktop or have the Start button bring you to the All Apps screen are buried under a submenu found only by right-clicking on the taskbar. Really, Windows?
It'd be great to see these options highlighted in the Settings charm's Personalize options, or maybe even offered as part of the initial installation process. Don't hold your breath, though: Since Microsoft has clearly tied its future to the modern UI, the desktop will be lucky if it receives benign neglect, as opposed to being eliminated entirely.
3. More cohesive Personalize options
Speaking of which, the Personalize section really should have many, many more options for users. You'll find only preset Start screen backgrounds and background/accent color options in Windows 8.1's Personalize screen. Microsoft should seize the opportunity to make it a one-stop DIY shop.