20 computer terms every Mac user should know
Puzzled by tech terms thrown around by acronym acolytes? Professor Breen sets you straight.
Lightning: This is the proprietary connector found on today's most recent iPod touch, iPhone, iPad, and iPad mini models. It replaces the 30-pin dock connector found on earlier iOS devices and iPods. Unlike that connector, the Lightning connector works regardless of which side is facing up. Like the 30-pin connector before it, the non-Lightning end of the cable sports a USB connector and lets you transfer data as well as power to an attached device.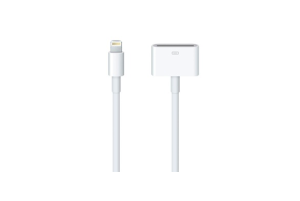 Apple's Lightning cable.
Thunderbolt: Thunderbolt is today's faster transfer scheme. Unlike FireWire or USB, it can handle both data and video connections simultaneously. You can string a single Thunderbolt cable between your Mac and, say, Apple's Thunderbolt Display, and use that connection to view the Mac's video on the display while using the USB, FireWire, Thunderbolt, and ethernet connectors on the back of the display to attach other devices to your Mac.
Thunderbolt is up to 20 times faster than USB 2.0 and up to 12 times faster than FireWire 800. You can connect as many as six compatible devices from a single Thunderbolt port. With a compatible adapter, you can connect USB, FireWire, and gigabit ethernet devices to a Thunderbolt port. The following Macs have Thunderbolt ports:
MacBook Pro (Retina, 13-inch, late 2012)
MacBook Pro (Retina, mid-2012)
MacBook Pro (early 2011) and later
MacBook Air (mid-2011) and later
Mac mini Server (mid-2011) and later
Mac mini (mid-2011) and later
iMac (mid-2011) and later
Video connectors
There are many ways to move video signals around. Here are the video standards you're most likely to encounter.
Composite: Composite video is an analog standard that supports 480p video (which has a resolution of 720 by 480 pixels). Composite cables most often use three RCA-style connectors. The red and white connectors are for right and left stereo audio, respectively, and the yellow connector is for video.You'll find these connectors on old VCRs, videogame consoles, TVs, AV receivers, and camcorders. Macs haven't had composite video connectors on them for a very, very long time—and even when they were available, they were found only on "AV" Macs. Apple doesn't sell composite adapters for the Mac, but you can purchase such an adapter for your 30-pin iOS device in the form of Apple's $39 Apple Composite AV Cable.
Component: Component video is another analog video standard, but one of higher quality than composite. Component cables typically have three RCA connectors colored red, green, and blue. In household use, it supports up to 1080p resolution (1920 by 1080) and offers a better picture than composite video. Some video cards offer component connectors, but you won't find them natively on Macs.
Mini DisplayPort: Introduced with late 2008's Mac models, Mini DisplayPort supports digital video only and offers resolutions of up to 2560 by 1600. The connector is a small rectangle with two rounded corners and looks exactly like a Thunderbolt connector. (In fact, you can use a Mini DisplayPort connector in a Thunderbolt port.) Adapters are available for converting Mini DisplayPort to VGA, DVI, or HDMI signals.
Previous Page 1 2 3 4 5 6 Next Page