5 budget laptops for college students: We name the best
Being a cash-strapped student requires making a few hardware compromises, but a nice notebook is still within reach.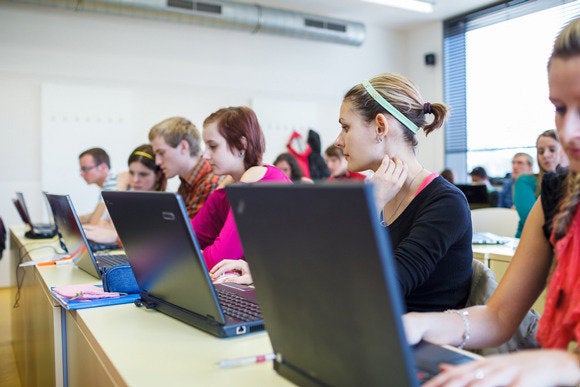 So you're heading back to school and you need a new laptop--but you didn't manage your finances over the summer. Your bank account is nearly tapped out, and you still need to buy text books and lay in enough ramen noodles to last through the winter.
Yeah, we've all been there. Fortunately, Moore's Law is still in play, so today's budget notebook is yesterday's workhorse. Pretty much any modern laptop can handle the gamut of productivity chores--word processing, number crunching, email, and the like--but all of the machines in this roundup can also tackle media editing and encoding sessions, and deliver respectable entertainment experiences.
To strike the best balance between performance and affordability, I gathered the top five notebooks I could find for $650 or less. Benchmark busters they're not, but they aren't budget busters, either.
CPU, memory, and storage specs
I used several criteria to evaluate these laptops, including benchmark performance, storage capacity, weight, battery life, and (of course) price. Three of the laptops use Intel CPUs and two are AMD-based, but no two machines use the same CPU. And though Intel's Haswell family has been justly lauded for its conservative power consumption, the one entry in this roundup equipped with a fourth-generation Core processor finished third in our battery rundown test.
When you're shopping in this price category, you can expect to make some trade-offs. If carry weight is your primary consideration, for example, you'll have to sacrifice display size. The lightest notebook I looked at weighs 2 pounds less than the heaviest, but it also has the smallest screen: 11.6 inches. On the other hand, all five models here deliver the same native resolution of 1366 by 768 pixels, and each has an HDMI output for connecting to an external display or a TV. Four of the five notebooks come with Windows 8 installed, but only three of them have touchscreens.
Graphics, display, and weight specs
You should consider relying on the cloud or on an external hard drive if you need a lot of storage, since most laptops in this price range have smallish hard drives (and none of the ones I looked at for this story have a solid-state drive). The two models with drives bigger than 500GB are also the heaviest and most expensive in the group.
You won't have to make too many compromises on connectivity, however: Each of the five laptops has at least one speedy USB 3.0 port, and all have both 802.11n Wi-Fi adapters and hardwired ethernet connections for networking. Even so, some models had better networking options than others.
Now all you have to do is decide out which laptop fits your needs best.
1 2 3 4 5 6 7 8 9 10 Next Page