50 years of Star Trek: Boldly inspiring generations of scientists
Scientists from CalTech, NASA, Boeing and WPI all say the 1960s Sci-Fi show fueled their passions
For Lee Sheldon, who today is a professor at Worcester Polytechnic Institute (WPI) but was a writer and producer on the fourth season of The Next Generation, it was important to carry the message that science is cool and important throughout the different series.
Lee Sheldon, a WPI professor who was a writer/producer on the fourth season of "Star Trek: The Next Generation."
He also noted that in his conversations with Star Trek creator Gene Roddenberry, the people involved in the shows were conscious of the influence the series and movies had on kids and on the scientific community.
"Oh, I think we were all very aware," Sheldon said. "Even though it's set centuries in the future, we were very aware that the science should be as good as it could be. If we were going to speculate, it should be an extrapolation of science. It set goals for scientists today."
Star Trek writers and actors even went out to talk to students about the importance of science. "Everyone was very aware that we had something important to say and that we could affect the future," said Sheldon. "I think a lot of kids were incredibly inspired."
Seeing that you could have an exciting job working in science was an 'Aha' kind of moment for Emily L. Howard, a senior technical fellow with The Boeing Company.
"Many of the women were scientists on the show," she said. "I don't know that I knew I was destined for a future in science, but seeing women who were solving problems and using their creativity absolutely inspired me."
The real-life Apollo space program, the first moon landing in 1969 and physicist Sally Ride's becoming the first female NASA astronaut, offered a lot of positive scientific influences for Howard. But the fictional world of Star Trek carried its own importance.
"I can't give all that power to a single show, but it certainly helped fuel my interest," she said. "There were other things happening at the time, but at that young [age] to be exposed to these amazing possibilities about the future, planted a seed very deeply in me."
It planted a similar seed in Marc Rayman, the director and chief engineer of NASA's Dawn mission.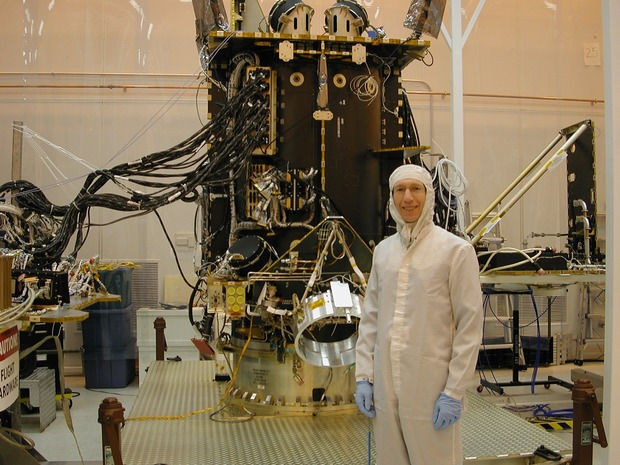 Marc Rayman, director and chief engineer of NASA's Dawn mission.
Rayman has been a serious Trekkie since the original show began when he was in the seventh grade. The first class he ever skipped in his life was when a Star Trek movie was opening at same time as his graduate class in statistical mechanics.
He would not only go on to himself be involved with spacecraft that explore alien worlds. And when he worked on NASA's Deep Space 1 program, the first interplanetary mission to use low-thrust propulsion technology, Rayman began calling it ion propulsion -- in honor of Star Trek.