6 things Kindle Fire HDX 8.9 does that Nexus 9 can't
Both the new Amazon Kindle Fire HDX 8.9 and Nexus 9 tablets are top-quality, high-end tablet options, but each outshines the other in a number of notable ways. Here are six things the Fire HDX 8.9 does that the Nexus 9 can't.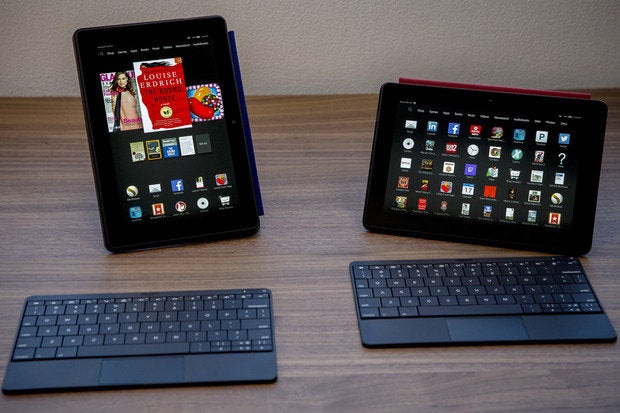 Credit: REUTERS/Brendan McDermid
The world of Android tablets is packed with options, ranging the gamut from budget devices with bare-bones functionality to cutting-edge, feature-packed tablets for the true gadget geek. With so many worthy choices, it can be a challenge deciding on the best tablet for you or a loved one.
The Amazon Kindle Fire HDX 8.9 (2014) and the Google Nexus 9 tablets are two of the latest high-end Android tablets. (The original version of the Kindle Fire HDX 8.9 has been discontinued and replaced by the new 2014 version, which is the tablet referenced in this story.) They're without question two of the best Android tablets on the market today, but they're each suited to specific types of users. When researching a new technology purchase, it can be helpful to not only consider a tablet's full feature set, but also the features it lacks.
After spending a few weeks using both of these Android tablets, a handful of things jump out as important to know for anyone who's trying to decide between the two. Here are half a dozen things Amazon's updated Kindle Fire HDX 8.9 tablet can do that Google's Nexus 9 can't.
(Of course, this is only one side of the story. For the opposite take, read "6 Things Nexus 9 Does That Kindle Fire HDX 8.9 (2014) Can't.")
1) Kindle Fire HDX 8.9 (2014), Fire OS and the Amazon Ecosystem
The most notable difference between the Kindle Fire HDX 8.9 and the Nexus 9 is the Amazon tablet's customized Android OS, called the Fire OS. (My Fire tablet is running Fire OS 4.5.1 "Sangria" at the time of this story's publication.) Without getting into too many details about the interface differences between Amazon's version of Android and the "pure" version that runs on Google's Nexus 9, it is worth noting that the Fire OS offers a set of unique Amazon features not available on any other tablets.
For example, Kindle Fire tablet users who are also Amazon Prime customers can download certain Amazon Prime movies and TV episodes for offline viewing. That means you can watch it when you don't have an Internet connection, such as while travelling. The Nexus 9 doesn't support Amazon's Instant Video Android app, and you cannot stream Amazon content using its default Chrome browser. If you're an Amazon Prime or Instant Video customer, you might be disappointed with the Nexus 9's lack of support for these services.
The Fire HDX 8.9 also has a more full-featured version of Amazon's Kindle reading app, with unique features including one that shows you the most highlighted passages in Kindle books, as well as how many other readers highlighted those passages. The Kindle app on Fire tablets also integrates tightly with Amazon's Goodreads social network for readers. And books you're reading are always easily accessible from your Fire tablet's home carousel.