8 ways to fend off spyware, malware and ransomware
Recent increases in cyberattacks and identity theft make it seem like the whole Internet is turning into the Dark Web. But while no system is unhackable, there are some painless precautions you can follow that might help keep you step ahead of the bad guys.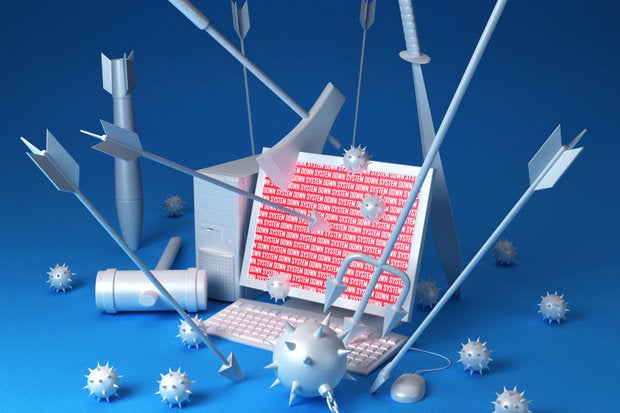 Spyware, malware, phishing and, more recently, ransomware -- the list of online threats can be confusing and daunting. Knowing what you're up against is half the battle. Each of these types of attacks have specific characteristics:
Spyware – software that collects information about you or your computer without your knowledge.
Malware – a broad category of software (including viruses, worms, Trojan horses, etc.) that damages your computer, in either a minor or major way.
Phishing – an attempt to get your personal information (usernames, passwords, credit card numbers and), usually for nefarious reasons. Usually accomplished by electronic communication (e.g., email), but also by "social engineering" (tricking people into abandoning standard security protocol).
Ransomware – a much more extreme version of spyware that will actually threaten to lock you out of your computer or encrypt your files unless you cough up a fee.
Most of these are easier to avoid than they are to remove. The following easy-to-implement security practices will help you protect yourself and your business from becoming easy targets for cybercriminals and online scammers.
1. Enable two-factor authentication
Passwords are convenient and tried-and-tested when it comes to securing your online accounts and digital data. However, the major downside is their susceptibility to being stolen using spyware or through trickery. The use of two-factor authentication (2FA), however, is a good defense against account compromise even when the bad guys have your passwords. Basically, 2FA adds another layer of protection after your password, usually by combining one factor (your password) with a second factor (a text message/verification code sent to your cellphone number).
As you can imagine, two-factor authentication works only if they are set up ahead of time, so do look into enabling it for all your online services and accounts. In fact, Telesign recently launched turnon2fa.com, a free and comprehensive guide on how to enable 2FA on more than 100 popular websites.
Helps prevent against: spyware, phishing
2. Check your login history
A successful spyware or phishing event could give hackers the credentials for an online service, which they can access for their criminal activity. This can be particularly problematic when undetected, and can result in liabilities or repercussions that their victims are left to deal with.
Fortunately, most Web services offer the capability to track the most recent logins in the context of the time it occurred, the mode of access and the destination IP address. The latter makes it possible to deduce the location of access, and can serve as a red flag; if you see logins to your account from physical locations you've never been to, it may be time to change the password.