Acer Aspire V3: "Budget desktop replacement" needn't be an oxymoron
Yes, you can buy a 17.3-inch Haswell-powered notebook with a discrete GPU for $1100. Just be prepared to make some compromises
It might seem as though every new Windows laptop has a bright, glossy touchscreen. After all, Windows 8 is a touch-centric operating system, and Intel requires any notebook powered by a fourth-generation Core processor to have a touchscreen. The hulking desktop-replacement models that gamers gravitate to, on the other hand, rarely have this feature. That omission has two reasons: First, gamers prefer to use wired mice or gamepads. Second, large touchscreens are expensive.
Acer's Aspire V3 (model V3-772G-9402) isn't necessarily a gaming machine, but it does have a 17.3-inch display (with resolution of 1920 by 1080 pixels) and a powerful discrete graphics processor. Acer describes it as a "versatile entertainment powerhouse," and its $1100 price tag puts it in budget territory for people who don't mind lugging an 8-pound machine.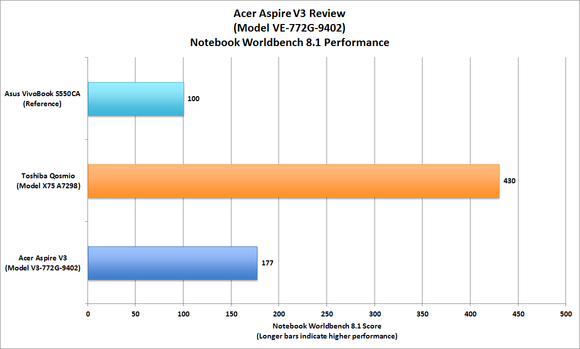 The absence of an SSD suppressed the Acer Aspire V3's overall benchmark performance numbers compared with the pricier Toshiba Qosmio. But its Haswell-class Core i7 processor and 12GB of memory helped it beat the older Asus VivoBook. (Click to enlarge image.)
It's powered by one of Intel's fastest fourth-generation Core (aka Haswell) processors, the Core i7-4702MQ; 12GB of DDR3/1600 RAM; and Nvidia's third-fastest discrete mobile GPU, the GeForce GTX 760M. But Acer skimps on storage by equipping the machine with just a 500GB, 5400-rpm hard drive. That component choice explains the Aspire V3's somewhat unimpressive Notebook Worldbench 8.1 score of 177.
While that score marks the Aspire V3 as 77 percent faster than our reference machine, the Asus VivoBook S550CA, pricier gaming notebooks have delivered scores well north of 400. But when you look at some of the gaming benchmark results that go into that composite score, the Aspire V3 looks a little better. With Dirt Showdown and BioShock Infinite at resolution of 1024 by 768 pixels and visual quality set to low, it delivered very playable frame rates of 65.6 and 69.7 frames per second respectively.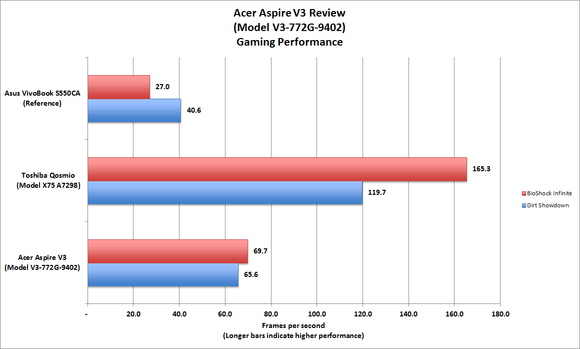 And having a discrete mobile graphics processor boosted its performance with demanding games. (Click to enlarge image.)
Spend an additional $800 to buy something like Toshiba's $1900 Qosmio X75, on the other hand, and you'll experience those games at 119.7 and 165.3 frames per second respectively (and at lower--but playable--frame rates at higher resolutions).
The Aspire V3 is an attractively designed, well-built machine constructed mostly from plastic, but with a finish that looks like brushed aluminum. Its island-style keyboard is well spaced, includes a numeric keypad, and delivers very good tactile feedback. But if you like to play in the dark, you won't like the fact that it's not backlit.