Acer Aspire V3: "Budget desktop replacement" needn't be an oxymoron
Yes, you can buy a 17.3-inch Haswell-powered notebook with a discrete GPU for $1100. Just be prepared to make some compromises

ROBERT CARDIN. The Acer Aspire V3 has four USB ports, but only two are USB 3.0. A DVD burner is nice to have, but a Blu-ray player would be better. (Click to enlarge image.)
Since it's not a touchscreen, the 17.3-inch display has a nonglare finish (most touchscreens are highly reflective, which can be problematic if you're using the computer near a bright light source). I didn't miss the touchscreen, because the large multitouch clickpad supports most Windows 8 gestures. You can pinch to zoom, for instance, and swipe in from the right to reveal the charms bar and in from the left to switch application windows.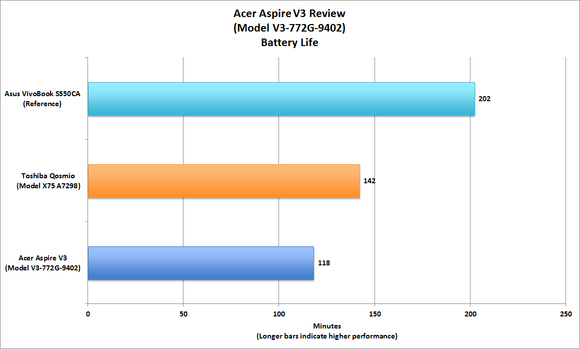 Don't plan to be away from a power source for more than two hours-that's about all the Acer Aspire V3's battery will last. (Click to enlarge image.)
The screen looks good, for the most part. It displays crisp, clean text and images with an accurate color balance. But I did notice a few issues with it: First, I saw some occasional shimmering, even in static images. Second, I had intermittent problems with the machine's brightness setting: Occasionally, when I turned the computer on, the display would be set to maximum brightness and refused respond to changes (even when I changed the power scheme). A restart resolved the problem each time it happened.
The Acer Aspire V3-772G-9402 isn't for everyone. It's big and heavy, it's a little clunky, and it doesn't deliver top-shelf performance. If you're looking for a powerful gaming laptop, or if you want to watch Blu-ray movies, Toshiba's Qosmio X75 is the better choice. But if you need an inexpensive desktop replacement with a big, high-resolution screen, the Aspire V3 is one of the better choices on the market right now.