Airmail email client has sleek fuselage, can't avoid a little turbulence
Airmail's appealing interface can't entirely conceal this lightweight email client's shortcomings.
Aside from the forum, Airmail offers no help guide, tutorial, or other documentation. Even a simple walkthrough of the program's features or preferences would have helped.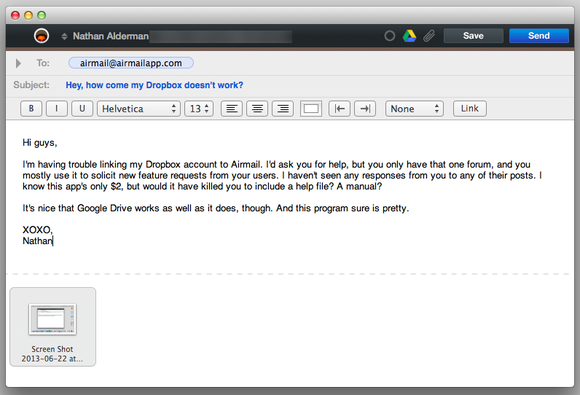 There's no way to quickly reply to a message without opening a new window, but you can send attachments via your Google Drive and a host of other services.
Bottom line
For just $2, I really shouldn't expect bells and whistles. Airmail looks sharp, and it does a few things like search (and its delightfully authoritative set of message-sent and —received sounds) quite well. In the course of my review, an update to Airmail fixed several irksome bugs and shortcomings, so the program's definitely improved. Still, you might want to wait until future versions have worked out the last of its kinks.