AMD Radeon R9 Nano review: A powerful taste of the PC's incredible shrinking future
There's no other graphics card quite like the AMD R9 Nano, which packs full-size performance into its six-inch frame—but it's not for everyone.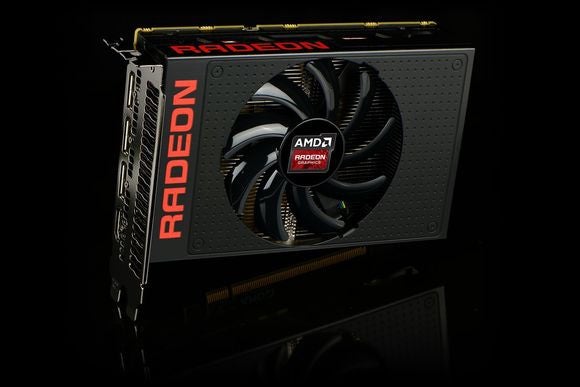 AMD deserves some serious props for even creating the Radeon R9 Nano in the first place.
This pint-sized powerhouse is the latest in a long line of AMD technical innovations that skate to where the puck is going, rather than where the puck is lingering today. Built around revolutionarily tiny—and fast—high-bandwidth memory, the six-inch Radeon R9 Nano delivers flagship-level performance in a form factor that fits where most other graphics cards simply can't.
In an age where graphics cards keep expanding with heat pipes and heat sinks and fans in order to push performance to 11, the Nano's more holistic design approach is a breath of fresh air, dragging mini-ITX (mITX) graphics cards out from the shadows and into the spotlight. It truly feels forward-thinking—the first top-tier graphics card designed for a future where mainstream computing increasingly shifts towards NUCs and Steam Machines and small-form-factor designs and PCs-on-a-stick. There's no other card out there like quite it, and the Nano will bring tremendous joy to the people pining for its particular blend of high-end features.
But pushing the PC ecosystem forward isn't possible without some growing pains. The $650 Radeon Nano rocks, but it won't appeal to everybody—not by a long shot.
Let's dig in.
AMD Radeon R9 Nano under the hood
The $650 asking price for the Radeon R9 Nano shocked some people, but AMD's deft design of the Nano goes a long way toward justifying the flagship-level cost. This is the most powerful mini-ITX graphics card ever created, and every aspect of it screams premium.
How Nano's so small: @Gordonung's Project Quantum dissection shows Fiji GPU vs a 290X board http://t.co/0gGG3aAqM6 pic.twitter.com/p3xSCHjqeI

— Brad Chacos (@BradChacos) September 2, 2015
The Nano's six-inch length is its most notable feature, naturally, enabled by the tremendous space and power savings of high-bandwidth memory, which is integrated with the GPU. The card's a hair smaller in both length and width than Asus' GTX 970 DirectCU Mini, the Nano's closest GeForce-based miniature competitor. (Nvidia doesn't offer mini-ITX variants of the GTX 980 or 980 Ti.)
One more: The @AMDRadeon R9 Nano is slightly shorter than the Asus GeForce GTX 970 DirectCU Mini mITX graphics card pic.twitter.com/z8JHa9d4qp

— Brad Chacos (@BradChacos) September 2, 2015
And it's downright puny compared to the hulking Asus Strix Fury. The Fury is AMD's other air-cooled graphics card built around a Fiji GPU and cutting-edge high-bandwidth memory.
Well look what just showed up from @AMDRadeon: The R9 Nano. Asus Strix Fury shown for size comparison. pic.twitter.com/O7D2NaE1L9

— Brad Chacos (@BradChacos) September 2, 2015