AMD Radeon R9 Nano review: A powerful taste of the PC's incredible shrinking future
There's no other graphics card quite like the AMD R9 Nano, which packs full-size performance into its six-inch frame—but it's not for everyone.
More comparisons: The @AMDRadeon R9 Nano vs. a AA battery and a #2 pencil. pic.twitter.com/enjHx7pD7j

— Brad Chacos (@BradChacos) September 2, 2015

It's small.

The Nano takes its design cues from AMD's other flagship, the also $650, water-cooled Radeon R9 Fury X. The Nano features a black metal shroud with a soft-touch aluminum finish, with RADEON emblazoned in bright red across its front and outer edge. It lacks a backplate, however, and for cooling it sticks to a single fan integrated in the shroud, sitting atop a card-length heat sink with horizontal fins. The GPU itself stays chilly thanks to a hybrid flattened-heatpipe/vapor-chamber solution. There's even a dedicated copper heatpipe just for the Nano's voltage regulator module.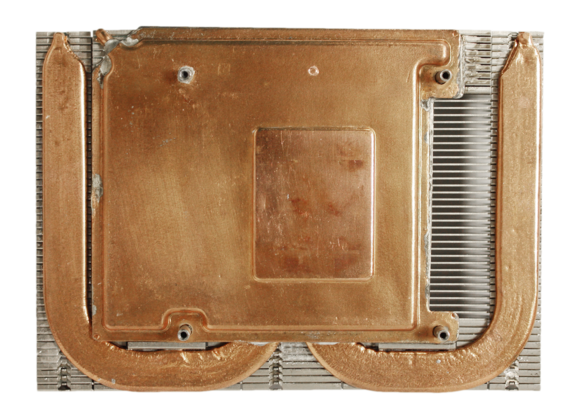 Now that's a cooler. The Radeon R9 Nano's cooler, to be exact.
Our deep dive into the Nano's design shines even more light on its inner workings, but the important part is that the cooling setup works well, as you'll see once we wade into benchmarks. That's a good thing, because AMD says customized Nanos from its graphics vendor partners (like Asus and Sapphire) won't necessarily be available. If they ever are, it'll be at least three months after launch—and even then, third-party vendors won't be allowed to touch the GPU's base specs.
Speaking of which, those specs are no joke. The Radeon R9 Nano packs the same full-fat, 4096 stream processor-strong Fiji graphics processor as the Fury X, along with the same 4GB of HBM. The Nano's GPU isn't an exact mirror of its bigger sibling, however: In order to squeeze Fiji into a mITX form factor without liquid cooling, AMD reduced the clock speed of the Nano's GPU enough to allow the card to consume a mere 175 watts of energy over a single 8-pin power connector. The Fury X, on the other hand, requires two 8-pin connectors and 275W.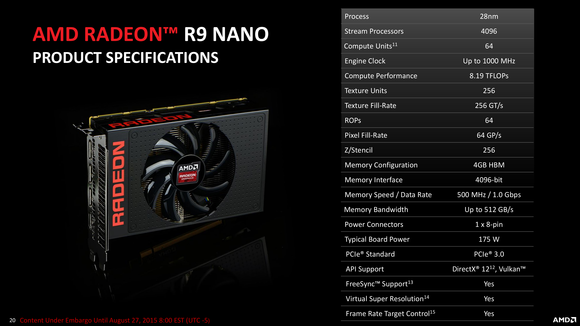 The AMD Radeon R9 Nano's specs. Click on image to enlarge.
There's more to it than the listed specs, however. On paper, the Fury X is clocked at 1050MHz, while the Radeon R9 Nano hits up to 1000MHz—but the Nano uses an aggressive version of AMD's PowerTune technology to dynamically adjust the clock speeds to meet the card's thermal and power targets. Observing real-time clock specs for the Nano using GPU-Z, it ran at 650MHz to 680MHz in the Furmark benchmark (which both AMD and Nvidia call a "power virus"), typically 859MHz to 926MHz in 3DMark's Fire Strike (though it dropped to 700MHz during the last, most stressful scene), and 852MHz to 917MHz in Middle-earth: Shadow of Mordor.
Previous Page 1 2 3 4 5 6 7 Next Page