AMD Radeon R9 Nano review: A powerful taste of the PC's incredible shrinking future
There's no other graphics card quite like the AMD R9 Nano, which packs full-size performance into its six-inch frame—but it's not for everyone.
There's no other graphics card like it. If you want uncompromising gaming performance from a mini-ITX PC and play at resolutions higher than 1080p, the Radeon Nano is easily the most powerful option available. Its diminutive stature and cool performance will allow it to fit into itty-bitty cases that full-sized graphics cards couldn't even dream of squeezing into.
"For anyone who wants to build a small form factor chassis capable of playing 4K, the Nano is really interesting and that's exactly where we targeted it," AMD's Victor Camardo said at a Nano press briefing last month. "For those people who want power efficiency, who want high-performance, who want a good overall gaming solution that's optimized to take advantage of all aspects of the product, and not just push one curve or the other to the max."
The AMD Radeon R9 Nano does just that. It feels unique. It feels forward-thinking, a harbinger in a world increasingly focused on cramming full PC performance into ever-smaller cases. And more than that, it feels premium, oozing style from every fiber of its being. People may scoff at the Nano's $650 cost, but it manages to trade performance blows with the $580 Strix Fury and $530 EVGA GTX 980 FTW despite its far more diminutive stature and enviable power efficiency.
It's amazing. A hell of a graphics card. The Radeon Nano fully justifies its $650 price point.
But most people shouldn't buy it.
Stumbling points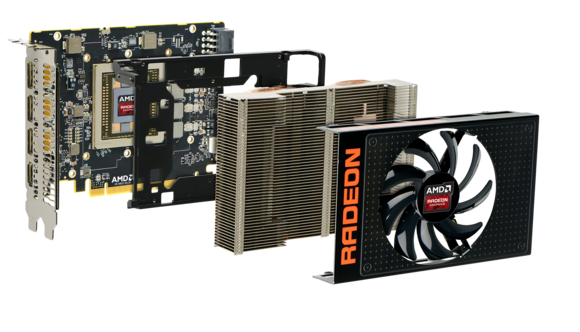 The Nano isn't just a niche product, it's an ultra-niche product—more a showcase for the space- and power-savings of HBM and Fiji than anything else. Currently, there are only a handful of (admittedly gorgeous) PC cases small enough to fit the Nano, but too compact for a larger graphics card. If size isn't an issue, it makes more sense to spend your $650 on the far greater performance of a Fury X or GTX 980 Ti. (See: PCWorld's recent mITX build starring AMD's liquid-cooled Fury X.)
What's more, some technical issues hold back key would-be use cases for the Nano. At this size, the Nano just begs to be used in a killer home theater PC designed around a 4K TV… but the card's lone HDMI port is 1.4a, not 2.0, which means it's limited to 30Hz at that resolution. To be fair, Nvidia's HDMI 2.0-equipped high-end GeForce cards lack HDCP 2.2 support so they can't play protected 4K content, either. It's still a bummer in a card like the Nano, however, which even packs a H.265/HEVC video decoder. To find a graphics card with HDMI 2.0, HDCP 2.2, and H.265 encode/decode, you have to look to the $200 GTX 960 or $160 GTX 950, which don't offer anywhere near the gaming performance of the Radeon Nano.
Previous Page 1 2 3 4 5 6 7 Next Page