Android device updates: T-Mobile Galaxy Note 5 update brings battery life improvements, security fixes
Google also pushed out the latest monthly security update for Nexus devices.

Credit: Florence Ion
The wheels move slow on the Android update wagon, but at least they turned favorably for the T-Mobile Galaxy Note 5 this week.
It's not getting Marshmallow, but it picked up some key updates that should give you a smoother experience. You're also getting that monthly security fix for your Nexus device, which is one of the perks of going all Google.
Each week, we compile all the major software updates to hit the Android ecosystem, including phones and tablets on U.S. carriers, unlocked phones, Android Wear smartwatches, and Android TV devices. Making sure your device is running the latest available software is a good housekeeping practice, ensuring you have the latest features with fewer bugs and gaping security holes.
T-Mobile
Galaxy Note 5: It looks like you're getting security fixes, enhancements to the Samsung At Work service, battery life improvements, and implemented VR support. While T-Mobile's update site doesn't show the file as available, several others over at Android Central shared screenshots to confirm they were seeing the update land on their phones.
Nexus
Monthly security update: The November patch is here for Nexus devices. Google is now delivering a monthly security update, a needed response to Stagefright and a growing number of malware issues. You can see if you have the latest patch by going to Settings > About.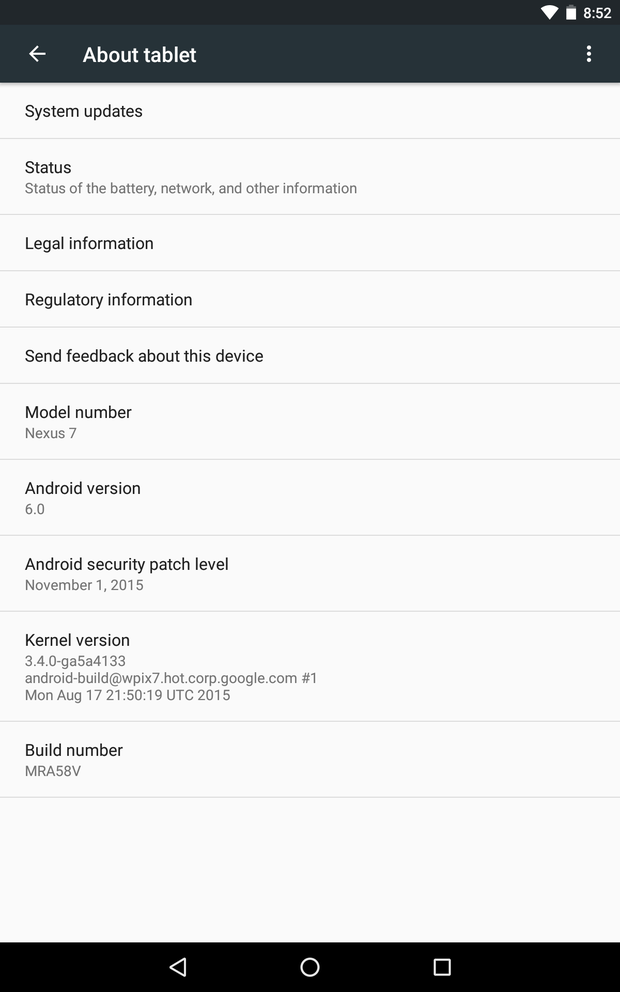 Nexus devices now tell you if you've received the monthly security update.
The over-the-air update should hit your device soon, or you can get the factory image from Google. If you go that route, keep in mind you'll be wiping your device and starting anew.
Google Play Edition
HTC One M8: There hasn't been an official word from HTC, but many Play Edition owners are sharing that Marshmallow has come to their phones. HTC's hardware prowess and pure Android has been a great combination in the past, so enjoy your tasty Marshmallow treat when it arrives.
Android distribution numbers
Dashboard update: Marshmallow has made its debut in Google's monthly report of the Android distribution numbers. It's only .3 percent, but it's a start.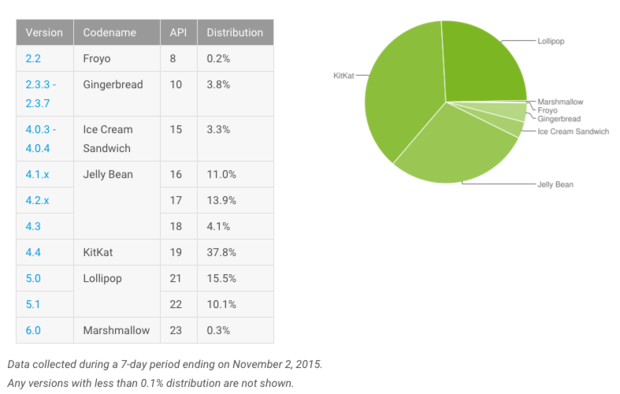 Marshmallow is a tiny sliver, but at least there are enough devices to debut on the chart. Click on image to enlarge. Credit: Android Developers
There wasn't a ton of movement with the other versions of Android: Lollipop is still on about one-fourth of all devices. However, Marshmallow is off to a faster start compared to the release of Lollipop, which could be a result of the quick rollout to Nexus devices and the popularity of the 5X and 6P.
You can get the full rundown on the Android Developers site.