Apple Watch Series 2 offers glimpse of smartwatch future
Focuses on fitness, but there's a long way to go to major smartwatch growth.
Building a legacy
At one point three years ago, the upcoming original Apple Watch was seen as a way for then-new Apple CEO Tim Cook to leave a lasting mark on the computer industry in the post-iPhone era. But even before the disasterous drop in smartwatch sales in the second quarter of 2016, Samsung officials were bemoaning their early smartwatch results even after beating Apple to the market.
Cook and Apple have not said much about the recent downturn in sales, but Cook was predictably upbeat at this week's launch event. He pointed out Apple Watch is second only to Rolex, leads in smartwatches and tops customer satisfaction surveys.
"It's important we delight customers," Cook said. "Apple Watch set a high bar. We are just getting started."
What's still needed—a fashion flair
Apple's focus on the fashionable design of the hardware and bands and even the simplified interface in Watch OS 3 will go a long way, and could influence the rest of the industry, Ubrani said. (A new ceramic white model was launched, along with stylish new watch bands.)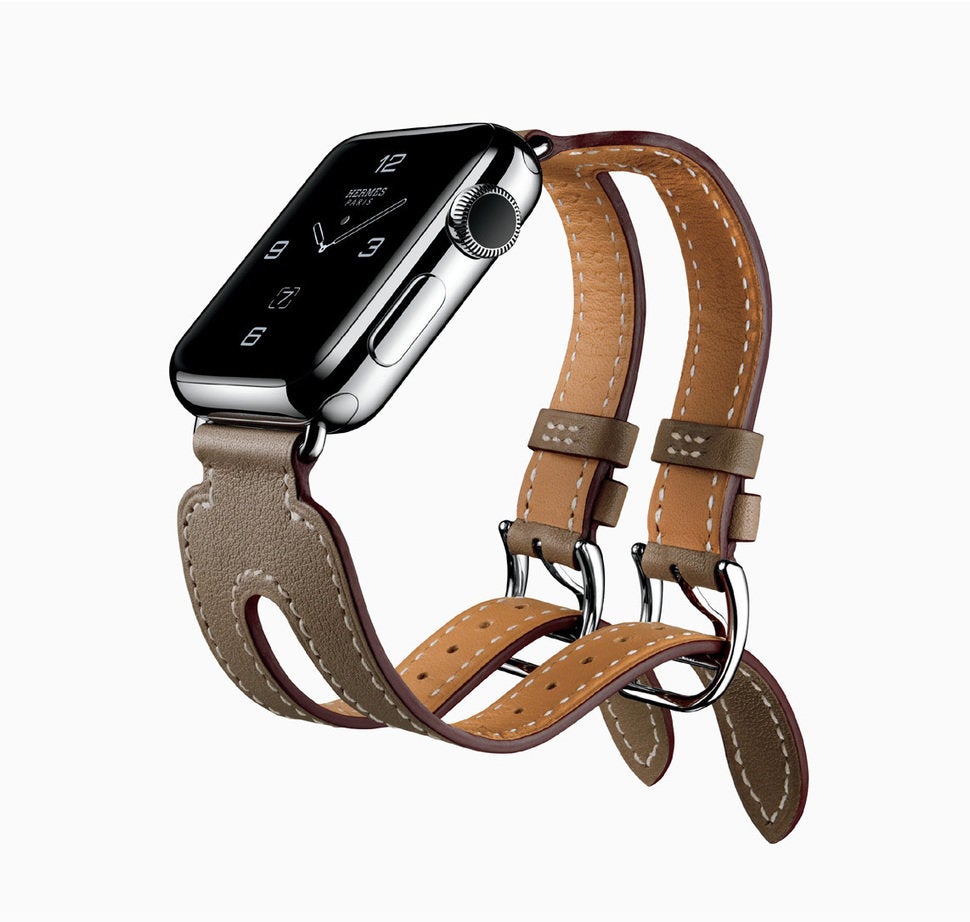 "Fashion smartwatches are not a silly concept," Ubrani said. "People are interested in new designs and pay attention. Many people, including women, weigh the design over the function. The problem of designing for women still exists."
IDC has seen that when smartwatch makers pitch their wares to women buyers, "they tend to take their regular model and coat it in gold or add jewels, but that really doesn't work because the smartwatch is still pretty large," Ubrani added. "So it's still a high price that appeals to one type of woman. Apple is doing a good job there but there's still room for improvement."
In Series 2, Apple still makes both a 38mm model and a 42mm model, which is a lot smaller than Motorola's Moto 360 watches at 42mm and 46mm. The Motorola devices start at $300. The Apple Watch Series 2 keeps the same footprint as the original, but the new one is a "bit thicker," Ubrani said.
In another comparison, Samsung is producing the round-faced, cellular-connected Galaxy Gear S3 smartwatch with a 1.3-in. dial size, which actually is below the 1.5 in. display dimension of the smaller 38mm Apple Watch. (But the overall case of the Galaxy Gear S3 is 46mm, up from the 42mm of the Gear S2.)
However they are measured, Ubrani and other analysts have said watchmakers still need to find ways to make smartwatches more stylish, with some models small enough for many women but large enough to allow for touch functionality.
Previous Page 1 2 3 4 Next Page