ARM has a new 64-bit chip for the next billion smartphones
The Cortex-A35 is ARM's first entry-level smartphone processor based on the ARMv8 architecture.

The Canvas A1 smartphone from Micromax. Credit: Micromax
ARM released a new chip design Tuesday that should bring a burst of performance to low-cost smartphones aimed at fast-growing markets like China, India and Brazil.
Most people in rich countries who want a smartphone already have one, so growth at the high-end of the market has been cooling off a bit. But in developing countries, things are still heating up, and that's primarily where ARM's new chip is destined.
Called the Cortex-A35, it's the company's first chip for the low end of the smartphone market based on the ARMv8 architecture. ARMv8 is already used in high-end devices like the iPhone 6S, and it's the architecture that brought 64-bit computing to ARM SOCs (systems on chips).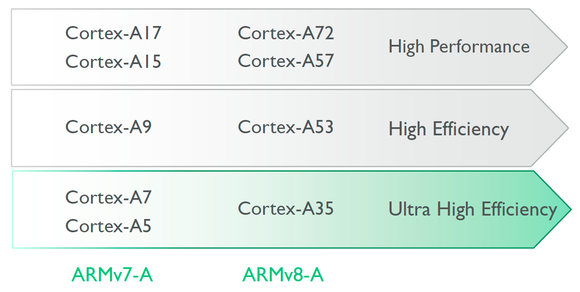 How the Cortex-A35 fits into ARM's smartphone processor lineup. Credit: ARM
There's some debate about the value of 64-bit chips in smartphones today, but ARM says the new chip provides significant gains even running 32-bit software. Compared to its Cortex-A7, it says the A35 gives an average 20 percent better performance depending on the application.
It's also highly energy efficient, a hallmark of the ARM architecture that has allowed it to be so successful in mobile devices. Operating at 1GHz, the A35 consumes just 90 milliwatts per core when manufactured on a 28 nanometer process, the most common in use today for smartphone chips.
Bottom line: Low-cost smartphones should be able to run better displays and richer apps without compromising battery life.
The A35 isn't only intended for low-end devices; it will also be paired with more powerful chips in what ARM calls big.Little configurations for high-end smartphones. Big.Little assigns more powerful cores to tasks like video playback, and smaller cores for jobs like email, which extends battery life.
ARM is announcing the new design at its TechCon conference in Silicon Valley, but it will be another year until it gets into devices.
ARM doesn't manufacture chips itself; it licenses designs to other companies. There are broadly two types of licenses, an architectural one and a processor one. Companies like Apple and Samsung take an architectural license, which means they take the basic ARM architecture and design their own chips from scratch.
ARM also licenses designs for complete processors, which is what its Cortex products are. There's less room for customization, but it allows a manufacturer to get a new chip to market more quickly and cheaply.
ARM says 2 billion smartphones have been shipped to date with its entry-level Cortex-A5 and A7 chips. "We're now enabling 64-bit features for the next billion smartphone users," said Ian Smythe, ARM director of CPU marketing.