ARM has a new 64-bit chip for the next billion smartphones
The Cortex-A35 is ARM's first entry-level smartphone processor based on the ARMv8 architecture.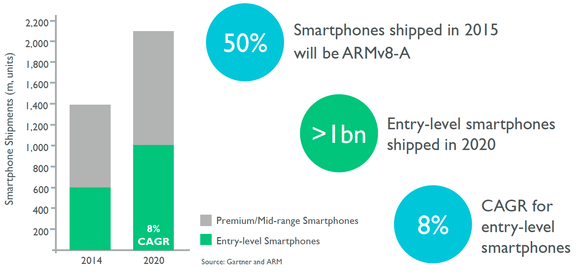 ARM sees a big market for entry-level smartphones through 2020. Click on image to enlarge. Credit: ARM
ARM designs utterly dominate the smartphone market. Intel was late to develop an x86 chip with the right low-power characteristics and never became a serious threat. Analyst Carolina Milanesi, chief of research with Kantar Worldpanel, says Intel appears to have "given up" on the smartphone business, focusing instead on tablets, PCs and the emerging Internet of Things.
The high end of the smartphone market has become a replacement market, she says, with the growth shifting to the low-end. Chinese vendors like Huawei and ZTE used to feed that market, but lately they've been moving up the food chain, replaced by smaller vendors like Meizu and Coolpad in China, and Micromax, Gionee and Karbonn in India.