As HP splits in two, weaker PC makers won't survive the shakeout, analysts say
Hewlett-Packard's decision to spin off its PC business shows that even historically strong PC makers are having to rethink their commitment to the market -- and that smaller players are already saying, "No mas."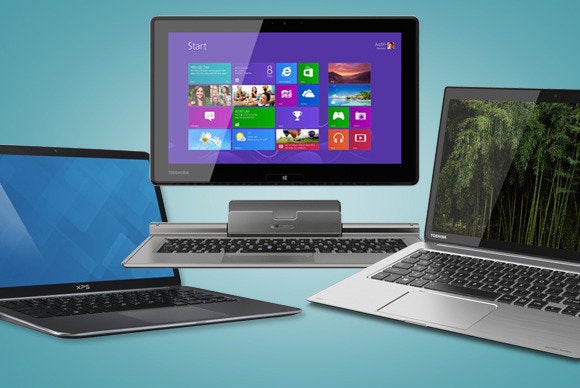 Two years ago, analysts began worrying that consumers would stop buying PCs. While their warnings may have been a bit overblown, it certainly does seem that vendors are increasingly reluctant to make PCs.
Over the past year, Dell has gone private, Samsung has pulled out of the European PC market, Sony has sold off its PC business, and now Hewlett-Packard has declared its intention to spin off its PC and printer business into separate companies. And that probably won't be the end of it, analysts say, as the industry further consolidates.
So which manufacturer will flinch next?
As profit pressures force PC companies to re-evaluate their commitment to the PC, the big will get bigger: Both Dell and Lenovo, for example, are in "good places right now," and aren't looking to sell, says Pat Moorhead of Moor Insights. Nonetheless, the betting line right now says that Acer and Asus, despite their differences, will be forced to merge interests, and that Samsung will eventually pull out of the PC market entirely in favor of tablets, says Bob O'Donnell of Technalysis Research. Toshiba is also willing to sell its PC division, O'Donnell said.
What this means: While consumers still want to buy PCs — and the cheaper, the better — there's an increasing feeling that any profit remaining in the PC market is draining fast. Even in 2011 — the last time HP pitched a PC spinoff to Wall Street, which demanded the head of chief executive Leo Apotheker in return — the argument was that a company like a Hewlett-Packard could sit down with a Ford, State Farm or Delta Airlines and convince those companies to buy a soup-to-nuts package of notebook PCs, servers, software, and services, thus providing more value than a PC-only company.
While companies like Lenovo may still be able to make that argument, smaller, less nimble companies may not see it that way. HP, ranked second in the world in PC sales, estimated its operating margins for HP Inc. (its proposed printer/PC spinoff) at 9.4 percent. That's not too far behind the 10.2 percent margin enjoyed by HP Enterprise. But at smaller, more cost-conscious competitors, pricing pressures are going to be far more intense. And that's already giving some PC makers cold feet.
So now what?
That doesn't mean that the PC is necessarily headed for the scrap heap, or even the dollar store. Global PC shipments will decline by 3.7 percent this year to 303.5 million units, IDC reported in August, revising its previous forecast of a 6 percent decline.
Ironically, according to O'Donnell, the PC itself has weathered the storm. "There's a whole lot of runway in business PCs," he said. "I think the thing about tablets replacing PCs is now officially dead."