Asus pushes a range of Skylake-compatible machines at Computex
So long, Broadwell. Asus's new line of computers packs Skylake—including its gorgeous, iMac-like Zen AiO.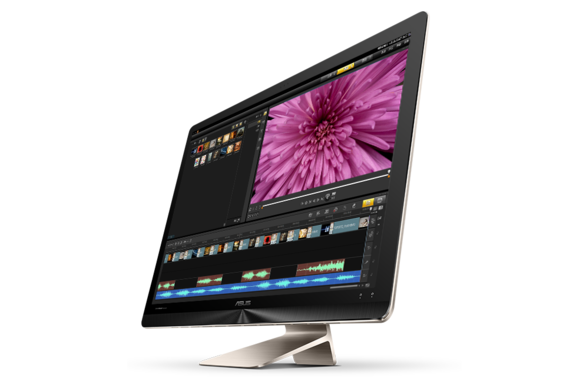 Rest in peace, Broadwell. We hardly knew ye. The big news out of Computex in Taipei this week is that Intel's Skylake is imminent--if you go by what OEMs are saying. Corsair's taking Skylake to the living room with Bulldog, and now Asus is talking up Skylake support in its newest systems.
Why this matters: It's been a while since we got to be excited about processors. Intel's Broadwell architecture was saddled with lengthy delays and middling performance improvements. Skylake is rumored, however, to be an actual step up from the ancient-by-computer-standards Haswell architecture, meaning it's attractive both to manufacturers and DIYers.
Speedy future
Basically, you're getting Skylake no matter what type of user you are.
First up is Asus's new Zen AiO Series. The press release says, "Zen AiO features a slim and elegant unibody shell--forged from a solid block of anodized-aluminum--that tapers to just 6mm thin at the edges, with a precision-crafted matching integral stand," which is an exceptionally long-winded way to say "It's like an iMac running Windows 10." Don't believe me? Here, take a look:
Yup, that sure does look like an iMac! Which isn't meant to detract from the look of the Zen AiO whatsoever--it's a damn attractive machine.
Under the hood isn't too shabby either, with "the latest generation of quad-core Intel processors" (a.k.a. probably Skylake), up to 32GB of DDR4 RAM, SSD storage, and an Nvidia GeForce GTX 960M graphics card with up to 4GB of VRAM. Plus you've got both USB 3.1 and USB-C ports and Intel's Kinect-like RealSense camera.
The Zen AiO will be released in both 21.5- and 23.8-inch models, though there's no word yet on resolution or whether it's a touch-enabled display. Also, Asus is being similarly cagey about price and release date, so you can't do anything except put this one on your wishlist for now.
Asus is also getting into Intel's latest processors for its performance/gaming machines--this time mentioning Skylake by name instead of merely hinting at it, as with the Zen AiO.
The ROG G11CB looks like a fairly standard gaming machine, aside from its Skylake processor: GTX 980, USB 3.1 ports, an SSD, DDR4 RAM. It also physically looks like a fairly standard gaming machine, what with its boxy shape and black/red color scheme:
Then there's the ROG G20CB. Again, you're looking at a Skylake processor, an Nvidia graphics card (unspecified), SSD storage, and DDR4 RAM.
Neither the G11CB nor G20CB (Say that three times fast) have a price or a release date. Skylake isn't expected to ship until the second half of 2015, so you can comfortably expect them this fall at the earliest.