Azure IoT Suite gets down to business
Forget two-year IoT pilots. Prebuilt solutions and fast prototypes mean you can ascertain the business value of IoT quickly enough to stay competitive.
That's why the IoT Suite includes not just services like the IoT Hub (which reached general availability this February) for dealing with the flood of data from connected devices, and analytics tools for getting value out of that data, but preconfigured solutions for remote monitoring and connected maintenance that businesses can customize (the code for the solutions is on GitHub under an open source license).
Remote monitoring may not be new, but now it's affordable regardless of company size, claims Miller. "The difference is hardware got cheap, sensors got cheap, computing got cheap, cloud availability became global and, just as important, the ability to analyze and so something with that data got mature enough that you could actually do something." That expands both the range and the reach of what you can do with IoT.
"Ten years ago you could do it, but you could only afford to do it if it was something like a jet engine and failure was catastrophic and an unthinkable problem. Now, connected things are not super expensive and we find people putting tags on everything from hospital and hotel linens, to pets and livestock. They want to tag the oil when it comes out of the ground and track it to the customer; you can afford to do that when connectivity is pervasive and cheap."
Location isn't the only useful sensor: Audio and vibration data is starting to transform maintenance, Miller points out. "You can listen to the microphone patterns and there's something squeaking that shouldn't be, something vibrating that shouldn't be. You can diagnose almost any mechanical device in world with a microphone."
From efficiency to new business models
IoT for business often suffers from hype, but Miller says there's a pattern to successful deployments: Start with the data and look for inefficiency before you start thinking about big changes. "There's been some press about IoT which suggests IoT is the magic unicorn that will solve all your problems and transform your business. You can get to transformative business outcomes, but most of the successful ones I've seen have not tried to start with that. They've started with 'I'm going to run my existing business better, I'm going to find efficiencies better' – because almost anything with humans involved has inefficiencies."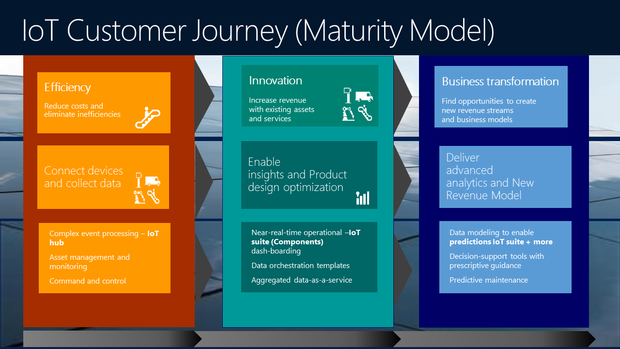 Microsoft
If you want to transform your business with IoT, start by making it more efficient says Microsoft.
One of Microsoft's most-publicized IoT customers, ThyssenKrupp, is a good example of what he calls the maturity model of IoT in business. The first step was putting sensors on elevators to discover whether the model they were using for regular maintenance actually matched how often they needed servicing. "It turned out their elevators were more reliable than they thought," Miller explains. "They realized they could adjust their maintenance window and not see a perceptible increase in the number of customer calls. They saved maybe 15 percent – on a billion dollar business."
Previous Page 1 2 3 4 Next Page