Behind the lens: A look at the technology inside the iPhone 5s camera
iPhone 5s the perfect companion for everyday shooting, allowing both inexperienced users and pros to take good pictures at the drop of a hat.
But that's not all: The new ISP also gains the ability to perform multizone metering, which means that it can now analyze multiple areas of a photo when making decisions on elements like focus or color balance. This results in a more responsive autofocus feature, better contrast, and crisper pictures.
Faster is better, too
A more sensitive sensor and faster ISP also translate to better capabilities at the software level. For example, theCamera app now features a new "burst mode" that allows you to take many pictures in a row; it can even automatically pick for you the ones that turned out the best.
A similar technique is used by the Camera app to help prevent blurry pictures caused by camera shake: By shooting a burst of pictures over a very short period of time and picking the one that shows the highest amount of contrast, the camera can produce crisper pictures even when you're not on the steadiest footing.
All this also makes the slow-motion video mode on the 5s possible. In order to "slow down time," the camera needs to capture images four times as fast as it does when recording a regular video, leaving the shutter open for only about 25 percent as long during each frame—something that would be very hard to achieve without the combination of more sensitive optics and faster image processing capabilities that the 5s boasts. (Unfortunately, you will still notice a slight flicker under artificial light due to the fact that traditional electrical sources turn on and off between 50 and 60 times a second, depending on where you are in the world.)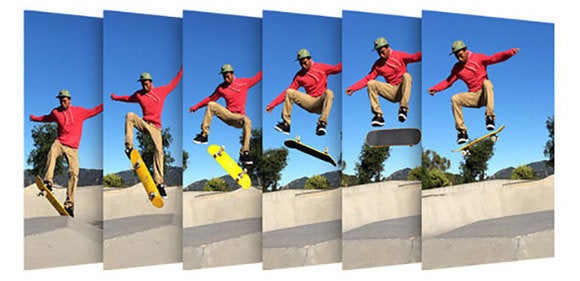 A faster and more capable Image Signal Processor makes new features like burst mode and slow motion possible.
A flash of inspiration
If you've ever taken a picture under artificial light with a flash, you've probably ended up with what I like to call the "zombie portrait," in which the difference in color temperature between the ambient light (which typically has a yellow tint) and the bluish light emitted by the flash makes it impossible for the ISP to properly balance the exposure, causing people in the resulting picture to look like they came straight out of a George Romero movie.
This problem has been the bane of photographers since before digital cameras, when the only way to correct it was to place a special gel filter in front of the flash and use a dedicated tungsten-balanced film. It was so common that many labs used to hand out preprinted cards with an explanation of the whole color balance issue in an attempt to prevent customers from accusing the technicians of ruining their children's birthday photos.