Bitcoiners crave coders to cope with demand
Bitcoin is not going away, the digital currency's developers say, and they're craving more technically savvy people to support its use.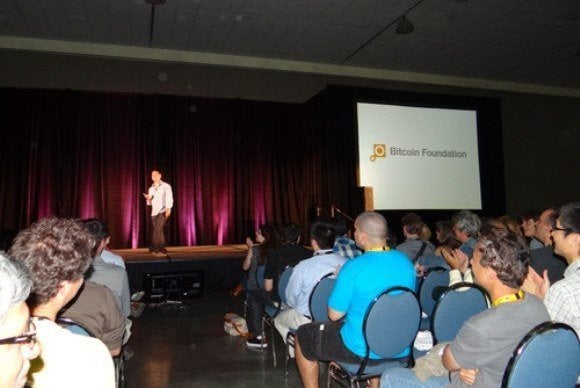 Bitcoin is not going away, the digital currency's developers say, and they're craving more technically savvy people to support its use.
"Our bottleneck is not new code, it's code review and testing," said Gavin Andresen , chief scientist at the Bitcoin Foundation, which provides most of the core backend development for the currency.
The foundation, which currently just has two full-time staff members, wants more help on the coding side as it eyes future Bitcoin-related services like enhanced security features on mobile wallets.
Ideally, the foundation would bring on a lead quality assurance and project manager full-time, Andresen said, but having other code-savvy people who could test and review new features for Bitcoin is also key. Many of the development projects can be found on the GitHub hosting service.
"If you want to make developers happy, start reviewing their requests [on GitHub]. Start testing. Say, 'I tried this,'" Andresen said.
Bringing on more developers makes sense to support new Bitcoin services, but having a more robust backend could provide other benefits in helping to thwart cyberattacks. Mt. Gox, the largest Bitcoin exchange, was hit with a denial-of-service attack in April.
Bitcoin is a digital currency managed and traded on a peer-to-peer computer network. Andresen, along with countless others, are banking that use of the currency, which is meant to be a decentralized form of payment not regulated by financial institutions or the government, is going to blow up in the months and years ahead.
Because the currency is unregulated and it is obtained through a variety of online exchanges as well as by "mining" with hardware, it is difficult to determine exactly how many people use it. Some say the total number of global users is on the order of millions, with hundreds of thousands more expected to begin using it over the next couple of months.
It is estimated that there have been 18 million transactions in the four years since Bitcoins were introduced. A variety of online retailers as well as brick-and-mortar stores are now accepting Bitcoins.
The Bitcoin Foundation made its calls for more coding help during the first Silicon Valley conference devoted to the currency, which is being held this weekend.
But there are other groups too in the growing Bitcoin industry who are also looking to bring in more hands.
One player is Armory, a desktop application for managing Bitcoin funds that sits on top of the user's primary Bitcoin client, which is known as the "Satoshi Client."
"I struggle just with not having enough people testing," said Alan Reiner , Armory's core developer, to a packed room of developers, Bitcoin enthusiasts, venture capitalists and other industry players at the conference.