Chip-card rollout drama peaks day before deadline
Card and bank officials at odds with retailers .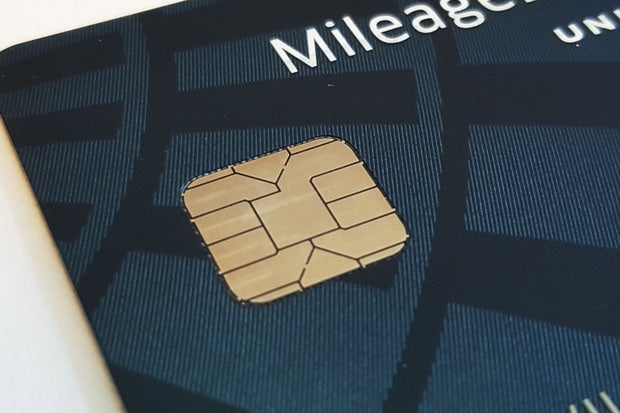 An EMV chip is seen on a credit card. Credit: Martyn Williams
Banks and credit-card companies claimed Wednesday that roughly half of U.S. consumers have received a new chip credit or debit card, while retailers continued to bemoan the chip card conversion process as too slow, too expensive and ineffectual in combating fraud.
The battle pitting banks and card companies against retailers reached a low point on the day before today's deadline that requires merchants to install new card readers that can process payments with the new chip-embedded cards. After the deadline, retailers will incur financial liability for counterfeit card fraud if they haven't updated their payment terminals.
Both sides in the debate issued statements and held conference calls with reporters to defend their point of view.
"Banks have failed to meet their own deadline for converting chip cards, but America's retailers are open for business either way," said Mallory Duncan, general counsel for the National Retail Federation in a statement. Banks haven't rolled out chip cards to all consumers, he said, and stores will still accept magnetic stripe cards.
On Tuesday, Duncan said that it was unfair for the nation's retailers to bear the bulk of the financial burden in the transition to chip cards and terminals, which he estimated will cost up to $35 billion over several years.
The concerns of retailers have garnered the sympathy of some analysts. "I can understand retailers' frustration," said Jordan McKee, an analyst at 451 Research. "Despite most card issuers' struggling to convert 50% of their portfolios to chip by year end, merchants are being held liable for fraud on Day 1 [tomorrow]. There's a bit of a disconnect."
Visa, MasterCard and a group called the Payments Security Task (PST) Force, which represents eight major banks, boasted Wednesday about the early success of the multi-year chip card rollout and offered a variety of statistics.
At Visa, executives claimed that 57% of U.S. consumers now have at least one chip card in their wallet, but conceded it will take two to five years for card adoption to top 90%. Visa said it had issued 151 million chip-embedded debit and credit cards as of Sept. 15, about 21% of Visa's total.
"That makes the U.S. the largest chip card market in the world. It's really good progress," said Stephanie Ericksen, Visa's vice president of risk products, in a call with reporters.
Separately, MasterCard said 40% of its credit cards in the U.S. are now chip-enabled, but the company would not reveal how many cards that totals.
"The shift to chip in the U.S. is a reality," said Chris McWilton, president of North America Markets for MasterCard, in a statement.