Chip-card rollout drama peaks day before deadline
Card and bank officials at odds with retailers .
The PST's eight banks said that 30% of their customers' credit and debit cards were chip-enabled as of the end of June, a number expected to grow to 60% by the end of the year and 98% by the end of 2017.
The PST companies that accept payments on behalf of banks also estimated that about 40% of payment terminals will be ready to accept chip cards by the end of 2015. Visa said about 314,000 store locations are ready to accept chip cards. One location, it said, could have between one and 50 or more payment terminals.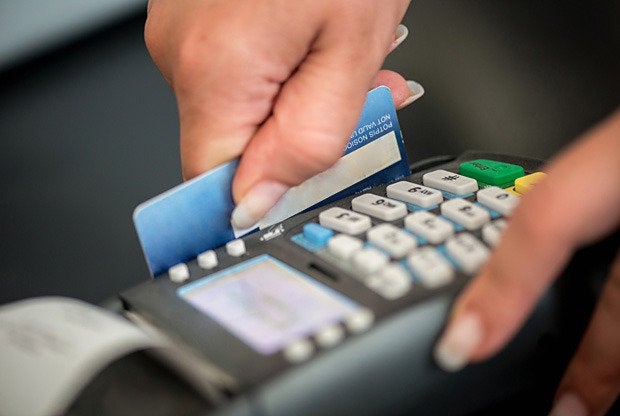 Magnetic-stripe cards like this one are not as secure as the new credit and debit cards embedded with a computer chip.
Given that there are an estimated 6 million to 8 million retail locations in the U.S. with an estimated 12 million payment terminals, the upgrade to enable chip-embedded cards has been massive. Retailers have had four years' notice to meet the Oct. 1 deadline, but many are unprepared, as retailers have openly conceded.
Retailers in the 94-member Merchant Advisory Group, on Tuesday blamed credit card companies for a six-month backlog in getting new equipment certified. Asked to respond to that concern, Visa's Ericksen said, "It does take time for the ecosystem to get built out … We're doing as much as possible to streamline and provide clarity. When you look at an infrastructure as large as the U.S., it will take several years."
The NRF has also complained that terminals can cost upwards of $600 apiece, which puts an unfair burden on retailers to make the conversion. Ericksen responded that costs for terminals have dropped in recent years, with some as low as $49 apiece.
"The incremental cost for terminals is negligible now compared to early costs in other countries," she said.
The NRF has also argued for the financial services industry to push for chip cards with the added security of a PIN (personal identification number), which would provide greater fraud protection than a chip card with a signature, or no signature or PIN on sales below $25 at many stores.
Ericksen said there's a movement in both Canada and Europe away from requiring a PIN with a chip card. Part of the reason there's no consistent industry rule on requiring a PIN for a purchase is competition between banks and card companies, she said.
"From an industry perspective, we don't collaborate on rules, but we have similar rules," she explained. "We have to compete and don't collaborate on policy."
The NRF, which has 18,000 members, favors requiring a PIN to provide added protections if a chip card is lost or stolen. Even with the computer chip in a card, a thief could present a stolen card at a store and make a purchase, which is something retailers hope to avoid.